Dark Souls 2 Crown Of The Ivory King DLC Pushed Back A Week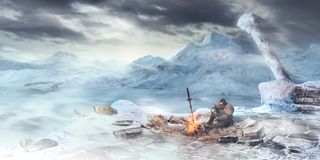 The final chapter of Dark Souls II DLC has been pushed back a week on the PlayStation 3, Xbox 360 and Steam. That's the bad news. The good news? You've got seven additional, tear-free days before Crown of the Ivory King pummels you into the dirt. Maybe use this stay of execution to spend some time with your loved ones?
Earlier this year, it was announced that Dark Souls II would be getting a trio of DLC chapters known as the Lost Crown's Trilogy. The first two chapters have already released, including Crown of the Sunken King and Crown of the Iron King respectively. You could pick up each of the DLC packs for $9.99 apiece, or just drop $20 on the bundle and claim all three at once. While players have enjoyed dying over and over again in the first two chapters throughout the summer, it looks like everyone will have to wait a little longer than expected to dive into Crown of the Ivory King.
That final chapter in the trilogy as actually due out this week but, according to the Bandai Namco website, a slight delay has pushed the content back to next Tuesday, Sept. 30 on Xbox Live and Steam and Oct. 1 on the PlayStation Network. Those dates are actually flipped compared to the norm for the Xbox and PlayStation, so don't be surprised if a slight correction is in order.
For those unfamiliar with the game, Dark Souls II is a sinister RPG that pits the player against unforgiving enemies and unlikely odds. It's a 3D exploration game, featuring dark fantasy worlds, hidden NPCs and bosses aplenty. The game will be absolutely brutal to anyone who tries the run and gun approach, assuming they can simply mow down enemies by swinging their sword like mad. Dark Souls is all about pattern recognition and preparation, rewarding those who wade into battle with a plan and the flexibility to regroup and alter their methods when things go south.
The Lost Crowns Trilogy offers up a bunch of new content for players to experience, including new zones, monsters and bosses to overcome. Considering the fact that the game proper is already pretty epic in terms of length and content, this is one of those DLC situations I have little trouble supporting. The new chapters add a lot to a game that's already big, and they complement a package that doesn't feel incomplete without them in tow. If you enjoy Dark Souls II, you're probably going to want to raise your shield and head back into the fray on a quest for those three mysterious crowns.
Then again, maybe you'll want to hold off and see what the future has to offer, as a "Complete Edition" of the game would make a heck of a lot of sense for that rumored next gen iteration.
Your Daily Blend of Entertainment News
Staff Writer for CinemaBlend.