Dark Souls 3 Collector Edition And Prestige Edition Outed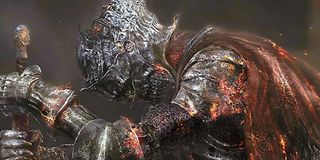 It should probably come as no surprise that Dark Souls III looks to be receiving a couple of special editions at launch that will include all sorts of extra goodies. If recent images are to be believed, we could be looking at both a Collector Edition and a Prestige Edition of the upcoming action game.
We've got a couple of images that All Games Beta managed to dig up, each one showing off the contents of a special edition of Dark Souls III. Everything here appears to be on the up and up but, just in case, take everything seen here with a grain of salt until official word comes down from Bandai Namco or FromSoftware.
According to the image, the Dark Souls III Collector Edition will feature an assortment of the kinds of goodies that typically come with these enhanced launches, including the game in a metal case, a soundtrack and even a hardcover artbook. Also included I nthis package is a cloth game map, three iron-on patches to show off your Dark Souls love while out in public, a 25cm Red Knight figure to thwart evil on your desk, as well as a collector's box to keep everything nice and organized.
Dark Souls III is set to launch in the States come March 24 and the UK on April 12. These images sport that UK launch date, as well as the PEGI rating so, assuming they are legitimate, there's no telling if they will be made available in North America, too.
If, however, you would feel more comfortable with a figure measuring 40cm in height, then you'll probably want to get the Prestige Edition of Dark Souls III instead. This version includes everything from the Collector Edition, but the figure is replaced with a bigger statue (this time of the Lord of Cinder) and a new box to whole all the bits and bobs.
I had the opportunity to go eyes-on with Dark Souls III for about an hour during E3 2015 and everything about the game looked to be up to snuff for the series. Combat appeared to offer a few more options to the player, likely a design decision brought on by the success and feedback from this past year's hit, Bloodborne.
Since then, we've all been treated to plenty of new screenshots, gameplay videos and additional trailers leading up to Dark Souls III's early 2016 launch. It's safe to say that the hype train is rolling full steam ahead for this particular game.
Speaking of which, if either of these special editions of the game make it to your neck of the woods, are you planning on picking either of them up?
Staff Writer for CinemaBlend.
Your Daily Blend of Entertainment News
Thank you for signing up to CinemaBlend. You will receive a verification email shortly.
There was a problem. Please refresh the page and try again.