Bloodborne Gets New DLC Details And Screenshots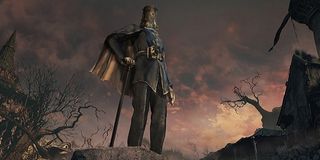 Bloodborne's first major expansion, The Old Hunters, is set to launch later this month and, to prepare, the team at FromSoftware have released new details and screenshots for the content alongside fresh info pertaining to an upcoming patch that will unlock new content for all players, whether or not you purchase the DLC.
We first caught wind of The Old Hunters several months back, with FromSoftware announcing that there would soon be more reasons than ever before to dive back into one of the year's most beloved games. And just like the core game itself, The Old Hunters will come packed with new areas, new gear and new enemies meant to challenge even the most seasoned of slayers.
But before that Nov. 24 launch date can roll around, a recent update on the PlayStation Blog outlines an upcoming patch that will prepare the world of Yharnam for The Old Hunters, as well as grant access to some new functionality.
First up, the upcoming patch will include a new joinable group called "The League." According to Sony Computer Entertainment Japan Producer Masaaki Yamagiwa, this League will make teaming up, finding help and offering it to other a heck of a lot easier. You can see a picture of the group's bucket-wearing leader at the top of this post.
So that's nice and all, but what players are really excited for is the full addition of The Old Hunters, which will be plugged into Bloodborne later this month. It'll include loads of new gear, including the Holy Moonlight Sword (shown off in the new screenshot below), as well as Simon's Bowblade and the new magic ability, the Blacksky Eye.
New enemies, bosses and allies will also make the rounds, mostly found in the brand new areas, The Hunter's Nightmare and The Astral Clock Tower. You read that right: Bloodborne is getting its own clock tower. Couple that with a new enemy that looks like a psychotic Belmont with a whip-blade and all of my fantasies of FromSoftware making a new Castlevania game are basically coming true. I mean, they've already got a gothic old castle lorded over by creatures who are obsessed with blood.
Staff Writer for CinemaBlend.
Your Daily Blend of Entertainment News
Thank you for signing up to CinemaBlend. You will receive a verification email shortly.
There was a problem. Please refresh the page and try again.