The Dark Souls Board Game Campaign Raised A Ton Of Money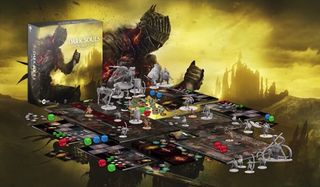 Pretty much everything about Dark Souls is difficult, but that uphill battle apparently doesn't translate over to raising money for a board game version of the popular dark fantasy adventure. That project recently wrapped up its Kickstarter campaign, raking in more than $5 million in the process.
In case you missed the deadline for the Dark Souls board game, you can actually still get in a late pledge on the official Kickstarter page. But don't feel like you need to throw your money at the developers or anything, as the campaign managed to grab the attention of 31,178 backers, combining to provide a whopping $5,072,784. When the Kickstarter page went live, the developers of the Dark Souls board game hoped to raise about $70,800 to make their tabletop fantasy a reality. Obviously, they manage to earn a little bit more than that.
In other words, Dark Souls' board game is one of those Kickstarter investments that's almost certainly going to pay off, especially since the team at Steamforged Games Ltd. raised more than 50 times what they were gunning for from the onset.
That Kickstarter page is where you'll want to turn for regular updates as full development gets underway, or you'll receive regular updates if you happen to be a backer.
For those of you who are unfamiliar with the Dark Souls board game, it's a combat exploration game for up to four players, though it can also be tackled solo. It's you versus the board and, just like in the video games, your tiny human characters will need to battle through armies of grunts, mini-bosses and towering bosses in order to survive.
Based on the concept art and sample pieces, the game certainly appears to be of a high quality. It's not uncommon for games boasting a bunch of miniatures to come with a hefty price tag, so we weren't surprised to hear that Dark Souls is going to go for around $100 at retail. That price point covers a whole bunch of plastic miniatures, all kinds of heavy-duty cardboard tokens, player sheets, five decks of cards, nine double-sided boards to play on and dice for each player.
What remains unclear is if the late backers to the Dark Souls game will also get all of those sweet stretch goals that are being included with the campaign. Expansions include miniature environmental elements, a completely new campaign and a ridiculous number of extra miniatures.
And now for the actual difficult part: The wait. The team hopes to start shipping Dark Souls to backers beginning in April of 2017, which means we've all got about a year to wait before we can actually play the game.
Staff Writer for CinemaBlend.
Your Daily Blend of Entertainment News
Thank you for signing up to CinemaBlend. You will receive a verification email shortly.
There was a problem. Please refresh the page and try again.