Dark Souls III's Brutal Launch Trailer Shows Off Environments And Enemies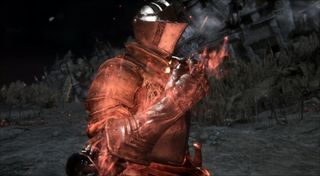 Dark Souls III is currently available right now for the Xbox One, PS4 and PC. Bandai Namco celebrated the launch of the game with a trailer that unquestionably captures the somber and dire atmosphere of the hack-and-slash RPG.
Featuring the melancholy tune from Hozier called "In The Woods Somewhere", the Dark Souls III launch trailer is a perfect amalgamation of a fitting song, awesome cinematics, some haunting voice-over work and lots and lots and lots of gameplay. You can see the collage of brutality in the trailer below, as spotted by Gamespot.
This is a nice follow-up on the sad Ben Affleck video they had used previously to promote the game, keeping the marketing tight and fluent for the action-RPG.
According to the Gamespot article, there are some slight spoilers in the video above. I suppose if you wanted to go in absolutely blind then yeah, there could be some images that could be considered as spoilers... especially given that a few of the bosses they showcase in the trailer above for Dark Souls III are secret bosses.
The game has been out and available in Japan since March and has garnered quite a bit of attention from press and gamers alike the world around. It's a really, really solid game as far as mechanics, class diversity and weapon skills are concerned. The weapon handling is probably one of the most impressive improvements over Dark Souls II. Instead of just hacking, slashing and rolling, Dark Souls III has the new Weapon Arts mechanics, giving gamers a lot more depth and functional versatility in how they riposte, parry, counter and unleash kill moves.
Speaking of kill moves, there are some new ways to take down enemies with a well-timed impalement attack that will either zap a ton of life or instantly wreck an opponent and turn them to ash. In the trailer above we get to see a few of the new attacks, such as the diving twin slashes. One of the other new attacks includes the ability to hold a counter-position and quickly dispatch an enemy that dare gets close. The new fighting mechanics are also spread across Dark Souls III's diverse catalog of weaponry that ranges from spears and swords, to hammers and axes, to halberds and pikes.
If you're looking for a really deeply woven story set within a dark, Gothic environment with some measure of high-fantasy elements, From Software's third outing in the Dark Souls series really nails that concept straight on the bulls eye.
The Gamespot article notes that while the Xbox One and PS4 versions of the game are getting high praise and a lot of attention from critics and gamers alike, the PC version is suffering from some minor crashing issues. Hopefully they get that solved rather quickly.
While the game can be blasted through in just a couple of hours, it offers tons of secrets and lots of replayability thanks to the New Game+. You can pick up a digital or physical copy of Dark Souls III right now from local retailers or participating e-tailers for home consoles and PC.
Your Daily Blend of Entertainment News
Staff Writer at CinemaBlend.
Your Daily Blend of Entertainment News
Thank you for signing up to CinemaBlend. You will receive a verification email shortly.
There was a problem. Please refresh the page and try again.