Dark Souls III's Newest Trailer Celebrates Why It's Been Dubbed Bandai Namco's Fastest Selling Title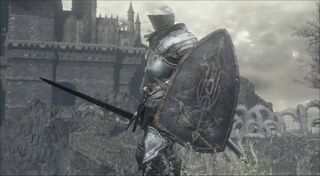 Bandai Namco released a new trailer for Dark Souls III to celebrate the game's launch. Think of it as a post-launch celebration trailer. It covers the game's accolades in digital media, while showcasing some of the bosses and Gothic imagery for which the game has become renown.
The trailer isn't just out there for the accolades, though. It was released as part of Bandai's announcement that Dark Souls III has become one of the fastest selling games in their publishing catalog. They posted the video to their official YouTube account as a form of recognition for this accomplishment. You can check it out below.
The trailer features the song "Kingdom Fall" from artist Claire Wyndham. Her melodic voice guides a rather somber song through an equally dark collage of violence and combat. It's a nice contrast of beautiful vocals versus the hacking and slashing taking place in Dark Souls III.
I do have to say that throughout the media campaign for From Software's third outing in the venerable action-RPG series, Bandai Namco has been keen on utilizing music and well timed editing to sell Dark Souls III as a must-have title for fans of dark medieval fantasy.
The press release doesn't exactly say how much the game has sold; it's aversion to hard numbers is a little troubling. Nevertheless, Bandai states that it had an "incredibly strong" first week on market when it comes to sales and that it's breaking records with day-one sales, becoming one of the best selling launches in Bandai Namco Entertainment's history.
Now, the press release may be bereft of sales figures, but that doesn't mean we can't get an idea of the scope of game's sales figures with a few different resources. For instance, according to Steam Spy, Dark Souls III has shifted more than 630,000 digital units. Now given that Chucklefish had mentioned that Steam Spy was a little short on counting the sales figures for Stardew Valley (they were off by about nearly 80,000 units) it's very well possible that Dark Souls III may have moved even more units for PC than what Steam Spy is reporting.
If we couple those estimates with the very rough figures from VG Chartz, it easily puts the game near the million mark. It's likely that they've already moved a couple of million units within the first week, and that's not counting the digital sales. I'm not exactly sure why they don't reveal a ballpark figure but I'm certain Dark Souls III is right up there with the rest of the AAA titles as far as first week sales figures are concerned.
What's interesting here is that they previously stated that this would be the last game in the series, but with such a strong market for these kind of games, would Bandai Namco really let the series end here? We do know that some new DLC will be on the way to tide gamers over, but once that's done with, will that really be all?
Some gamers are already looking forward to Bloodborne 2, so From Software could have their hands full with that in the near future. For now, they get to rest easy knowing that they have a massive success on their hands with Dark Souls III.
Your Daily Blend of Entertainment News
Staff Writer at CinemaBlend.