David Jaffe's Next Game Is Autoduel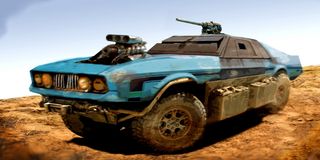 God of War and Twisted Metal designer David Jaffe has a new game on the way. He's serving as a creative advisor for Pixelbionic's upcoming vehicle combat game Autoduel.
Autoduel is a PC multiplayer game that draws inspiration from older vehicle combat games like Interstate '76 and Twisted Metal. It depicts a post-apocalyptic future in which heavily-armed vehicles battle for control of the wasteland. Players choose one of twenty different cars and participate in team-based battles.
The game is said to have several RPG elements. Players can upgrade many different aspects of their car, such as its suspension or its weaponry. The car's paint job and decals can also be customized.
Autoduel will be the first game produced by Pixelbionic. The studio was founded by Maxx Kaufman, art director for Return to Castle Wolfenstein and Kingpin: Life of Crime, along with Die Hard Trilogy and Battlezone producer Mike Arkin. Members of the Autoduel development team include Interstate '76 designer Scot Kramarich and The Matrix: Path of Neo senior programmer Rafael Paiz.
Pixelbionic hopes to fund Autoduel through - what else - a Kickstarter campaign. The campaign hasn't officially launched yet but will be coming soon. The star power of Jaffe and fellow Pixelbionic advisor Zack Norman (creator of Interstate '76) should help Autoduel stand out among all the other games on the crowd-funding site.
The first artwork from the game is below. It offers a few glimpses at the post-apocalyptic rides that players can hop into.
Image 1 of 3
Your Daily Blend of Entertainment News