Deadbreed To Bring Dark MOBA Action Into Beta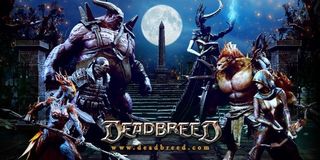 MOBAs are growing in popularity, featuring original IPs like Defense of the Ancients and League of Legends, as well as beloved properties like Lord of the Rings and the DC universe. The latest multiplayer strategy game to enter the fray is a new franchise called Deadbreed, offering tons of customization and a group of creators who know their way around the realm of video games.
Made up of folks most recently working on the Just Cause series, the veteran team behind Deadbreed set out to make a darker, more hardcore MOBA for fans of the genre with "unprecedented hero customizability and RPG gameplay features," according to a press release announcing the game's impending beta.
"I wanted to play a MOBA where I could totally customize how my hero looked and, more importantly, played, but I couldn't find one," said developer Stefan Ljungqvist. "Talking to friends, I realized I wasn't the only one wanting this, so we decided to make it."
That's a pretty great way to look at game development, actually. If there's a game you'd like to play but can't find it on the market, just make it yourself! Chances are pretty good that you aren't the only person craving said game, so long as said game isn't "Fish Cleaning Simulator 2014." You know what, I take that back. I'd actually put money on there being a group of people out there who would eat that particular game up.
Ljungqvist said he and his crew were also excited to make a more hardcore MOBA, containing combat and violence typically unseen in more family-friendly MOBAs, as well as a bunch of RPG features to make customization and progression more involved.
"After a decade of making AAA action console games, it feels good to return to your roots," he continued, referencing his background in pen and paper RPGs. "It feels great to make monsters again."
And if you would like to take those monsters for a test drive, the Deadbreed team is on the lookout for potential beta testers. For those interested in signing up, just head on over to the official site and enter your email address. No release date has been set but, if they're gearing up to head into closed beta at this point, there's a pretty good chance everyone will be invited in sometime in the coming months.
Otherwise, you can check out the game in motion below courtesy of the latest game trailer made available for public viewing. It looks pretty dark and sinister, and easy on the eyes to boot, which might be exactly what the MOBA genre is in need of during this time.
Your Daily Blend of Entertainment News
Staff Writer for CinemaBlend.
Your Daily Blend of Entertainment News
Thank you for signing up to CinemaBlend. You will receive a verification email shortly.
There was a problem. Please refresh the page and try again.