Destiny Refer-A-Friend Program Will Give You Special Rewards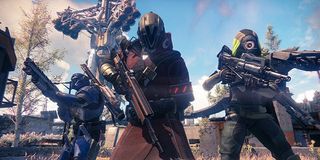 If you manage to get a friend to play Destiny during the holiday season, it sounds like the team at Bungie is putting together something special as a way of saying thank you courtesy of a new Refer-a-Friend program.
Announced this weekend through the Bungie blog, folks who help their friends transition into fully-fledged Guardians in Destiny will soon be able to reap some sort of rewards.
I'm not being intentionally vague here. Bungie hasn't ironed out all of the details so, at the moment, all we know is that it might be a good idea to pick up a copy of Destiny and gift it to a pal in the coming month.
The announcement goes on to state that the finishing touches are being put on the program, so expect to see the final details "very soon."
Speaking of very soon, that's when folks can expect Bungie to roll out the November update. Along with a bunch of minor tweaks and adjustments, a few highly requested changes will be released hand-in-hand with a couple of new features.
When the November update launches for Destiny next week, players will finally be able to buy gun parts from the Gunsmith. Those parts were available in abundance back in the day but, after The Taken King, they became a more useful part of the economy and a bit more scarce. Now you'll be able to spend Glimmer on these resources, in case you're running low.
Also making the cut in November is a fix for the Nightstalker sub-class for Hunters. The "Quiver" ability is being fixed, once again allowing Katnis wannabes to fire three Void anchors like the good lord intended.
Finally, another new addition to the marketplace will see Guardians being able to purchase additional swords. Until now, you were pretty much limited to a single sword if you are only running one character. After the November update, completing the Blademaster quest from Shaxx will allow you to buy any of the Legendary swords from the same vendor. That should certainly come in handy for folks who like to play with sharp objects.
Staff Writer for CinemaBlend.
Your Daily Blend of Entertainment News
Thank you for signing up to CinemaBlend. You will receive a verification email shortly.
There was a problem. Please refresh the page and try again.