Destiny Festival Of The Lost Event Celebrates Halloween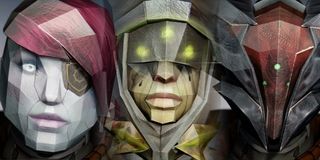 Bungie is inviting Destiny players to get into the Halloween spirit a little early this year, surprising players of the popular first-person shooter with the "Festival of the Lost," an two-week that's full of tricks and treats for Guardians across the globe.
One of the best things about any MMO is the celebration of real world events with in-game activities. And no matter how much Bungie wants to argue that Destiny is not an MMO, the team has basically completed that metamorphoses with the inclusion of this year's Festival of the Lost.
As if you needed another reason to keep plugging away in Destiny, the Festival of the Lost offers a limited window at snagging a bunch of holiday-themed goodies, including special consumable items, masks, quests, gear and more. The Festival runs from today, Oct. 26, through Nov. 9, so you've got a solid 14 days to grab as many of these limited edition treats as humanly possible.
As a side note, some of the event's content will not be available if you have not upgraded to the Taken King version of Destiny but, no matter which version of the game you're playing, there's going to be some new activities for you to take part in.
For starters, the next time you log into Destiny, you'll likely notice that a few things have changed. Not only have spooky decorations been added to certain areas, but several characters around the map are now wearing masks in honor of the Festival.
Some of those characters will also give you new quests, which have rewards that include stat-boosting items and even masks that look like characters from the game. You can also collect ingredients that will allow you to keep wearing those masks after the Festival of the Lost is over. Otherwise, you can wear them through Nov. 9 and then, just like a ghost, they disappear.
While there are lots of free festivities to take part in, Bungie will be utilizing Destiny's new microtransaction system to earn a few extra bucks. If you're willing to part with some real world cash, you can just outright buy yourself some permanent masks, as well as some new spooktacular emotes. One of those emotes is the "zombie dance" from the Thriller music video, so expect to see basically everyone and their mother strutting their stuff for the next several weeks.
While Bungie hasn't put together a trailer for the event, Youtube user Raptorr has put together a quick rundown of some of the fun stuff awaiting Destiny players the next time they visit the Tower.
Staff Writer for CinemaBlend.
Your Daily Blend of Entertainment News
Thank you for signing up to CinemaBlend. You will receive a verification email shortly.
There was a problem. Please refresh the page and try again.