Destiny The Taken King's PlayStation Exclusive Content Detailed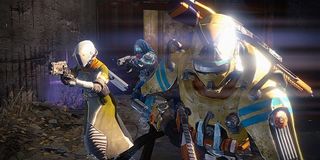 The Taken King is about to invade the world of Destiny and, when he arrives, he'll be bringing along some new exclusive goodies just for folks who are gaming on PlayStation consoles.
Just like when Destiny first launched back in 2014 and through the two expansions that followed, The Taken King will be offering a suite of exclusive content just for folks playing on the PlayStation 3 and PlayStation 4. It's actually a pretty robust package this time around, featuring an exclusive multiplayer map, an exclusive Strike, as well as an exclusive gun and some Legendary gear for each class of Guardian.
The full details went live today over on the PlayStation Blog, complete with a video rundown of that new content.
First up is the new cooperative strike at Echo Chamber, a mission that will have you fighting back against the Vex invaders. If you're in more of a competitive mood, you'll be able to enjoy an exclusive multiplayer map, too, called Sector 618. According to the description, this map is set within the walls of the Cosmodrome. I've checked out a few quick video features on the map, and it should come as no surprise that this exclusive addition appears to be the smallest map of the bunch. So get your shotguns and hand cannons ready!
As for gear, the PlayStation crowd will gain access to the Jade Rabbit, an Exotic scout rifle that packs a mean kick. Each class will also get their hands on a set of Legendary gear exclusive to PlayStation. Titan's will have a Hesperos suit that kind of looks like a Stormtrooper crossed with a old school Cylon, Wizards will have the Azoth Bend (which I can't really think of a good comparison for) and Hunters will dawn the Neuroghast, which makes them look like a badass shiny blue phantasm.
As you may recall, we're not particularly fond of this type of exclusive content, especially since it's basically a reward for choosing one console over another and a punishment if you happen to be gaming the other way around. Nothing here is game changing, sure, but it still feels kind of crappy for a developer or publisher to show this kind of favoritism. Developing a console exclusive game can often make a lot of sense, but developing console exclusive content for a game that's available across multiple platforms just feels gross.
Even if you're gaming on the Xbox 360 or Xbox One, though, you still have plenty to look forward to in The Taken King. There will be lots of new story content, a huge new map to explore, new enemies, competitive and cooperative maps, loads of new gear and much more. Look for it to hit Destiny this coming Tuesday, Sept. 15.
Staff Writer for CinemaBlend.
Your Daily Blend of Entertainment News
Thank you for signing up to CinemaBlend. You will receive a verification email shortly.
There was a problem. Please refresh the page and try again.