Bungie Is Planning Several More Destiny Releases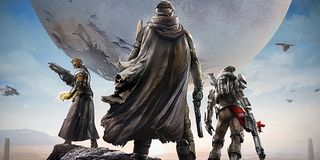 We already knew that Destiny was planned to have a 10-year life cycle but, thanks to some documents from a recent legal dispute involving the developer, Bungie, we might have a better idea of what type of launch calendar is planned for the years ahead. In short: It looks like there are three more major releases planned to follow The Taken King.
In case you haven't been keeping track of Bungie's legal matters, the studio recently resolved a lawsuit with composer Marty O'Donnell, who used to work for the studio. The folks over at Gameinformer decided to give the legal documents a perusal and found what appears to be a road map for Destiny's future.
In short, the documents highlight five total major projects for the Destiny series, the first of which was supposed to launch on Sept. 24, 2013. This "Retail Release 1 of Project Tiger" is the original version of Destiny, which ended up getting pushed back by a year.
Following that are another three entries for "Project Tiger," with the second one set to release on Sept. 30 of 2015. This, we assume, is the Taken King expansion set to launch on Sept. 15. While many folks will simply be buying the expansion, Activision and Bungie are launching a new physical product for The Taken King that includes the base game and all DLC up to this point, kind of like a "Game of the Year" version of Destiny.
The next major release on the schedule is a third Project Tiger title planned for Sept. 30 of 2017, followed by a fourth Project Tiger retail launch on Sept. 30 of 2019. The final release, called "Comet 4," will apparently arrive on Sept. 30 of 2020.
Another thing worth noting is that the document points out a framework that Destiny fans have been aware of for quite a while, as Bungie has been touting at least a 10-year life cycle for the game since the very beginning. The document states that Bungie entered into this agreement with Activision back in 2010. In other words, the agreement runs through 2020 (Which is 10 years after the ink dried on the original agreement), not 2024, which would be 10 years after the original Destiny launched.
Then again, this is all based on an agreement from five years ago and, since the original launch of Destiny was delayed, there's no telling what alterations may have taken place at this point.
So now for the big question: What does this mean for the future of Destiny? Since smaller DLC packages aren't included in the plan, my thinking is that we'll probably get another pair of DLC's similar to The Dark Below and House of Wolves to carry us through 2016. In 2017, maybe we can expect something more akin to a Destiny 2 hitting store shelves, followed by "complete" collection of that game (following multiple DLC's, of course) in 2019. Come 2020, maybe a final full game to make it a trilogy (followed by its own DLC packs), or a single mega-game that has the entire Destiny saga on one disc.
This is all, of course, wild speculation. And no matter what that calendar shapes up to be in the end, it looks like we'll be playing Destiny for some time to come. Hope your hard drive is prepared!
Staff Writer for CinemaBlend.
Your Daily Blend of Entertainment News
Thank you for signing up to CinemaBlend. You will receive a verification email shortly.
There was a problem. Please refresh the page and try again.