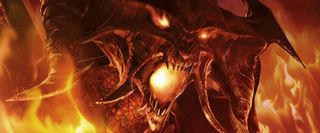 Diablo 3's patch 1.0.5 is now live on the public test realm with a new level 60 challenge called the Infernal Machine. A few players have explored the PTR and reported exactly what you need to do in order to activate it.
In order to use the Infernal Machine, you'll first have to build it. The four components for the Machine can be found on special monsters at the following locations (via Diablo Fans):
Key 1 - Found on Goat Mutant Key Warden in the Fields of Misery (Act 1)
Key 2 - Found on Dune Dervish Key Warden in Dahlgur Oasis (Act 2)
Key 3 - Found on Morlu Spellcaster Key Warden in Stonefort (Act 3)
Infernal Machine Plan - Found on Terror Demon Key Warden in Silver Spire Lvl 1 (Act 4)
These Key Wardens will always spawn in an Inferno game. However, they might not always drop the particular Infernal item you need.
Once you've built the Infernal Machine, head to the Heretic's Abode in New Tristram and activate it. The Machine will then open a portal to one of three realms. Each realm features a different encounter involving two bosses from elsewhere in Diablo 3:
The Realm of Discord - King Leoric and Mahgda.
The Realm of Turmoil - Siege Breaker and Zoltun Kulle.
The Realm of Chaos - Ghom and Raknoth.
You'll only be able to open one portal at a time. You'll have to craft another machine to get access to a different double-boss fight. The portal will disappear if you leave the game.
Experiencing all three fights could take a little while, then. Fortunately there are some excellent rewards up for grabs. In addition to normal loot, you can earn components for legendary Hellfire rings. You'll need three of these parts in total in order to make a ring. The plans are sold by Squirt the Peddler in Act 2.
The Infernal Machine is one of two main features in Patch 1.0.5, the other being Monster Power. The update is currently undated but you can try it out for yourself by downloading the PTR client of the game.
Update: Patch 5.1 is now live.
Your Daily Blend of Entertainment News
Staff Writer at CinemaBlend.