Diancie Pokemon Available At GameStop Now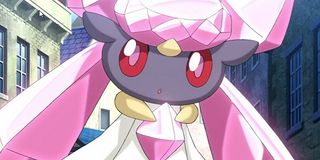 Leading up to the launch of Pokemon: Alpha Sapphire and Pokemon: Omega Ruby, gamers can grab a special selection of downloadable monsters from GameStop for the most recent iteration of the series, X and Y. This week, that includes the crystalline Diancie, which can be caught at GameStop for a limited time.
In order to get trainers pumped for the upcoming Pokemon games, GameStop is running a special promotion over the next few weeks that will allow players who drop by their stores to grab special codes in order to add unique pocket monsters to their collection. My GameStop was already out of the previous codes when I arrived just a few days after the promotion kicked off, so you might want to hustle over to your nearest store ASAP if you want to guarantee your chance of swiping a rare critter. It's not like I'm bitter about missing out the first one or anything. Nope, not bitter at all.
This is by no means the first time GameStop has hosted a Pokemon event. The game store has held similar givaways for years but, in the past, players only needed to show up and access their copy of Pokemon from within the store in order to get their special goodies. With this latest promotion, you actually need to get a code card from a GameStop employee, which means that, like I was saying above, supplies are limited. Similar to my feelings on Nintendo's bizarre limited access demos, I can't really fathom why they've chosen to do things this way. But thems the breaks.
In order to get your special Diancie for Pokemon X or Y, simply show up and ask for a code. Diancie doesn't offer anything too special in the current game but, once you transfer it over to Omega Ruby or Alpha Saphire, you'll be able to head into a Pokemon Center and pick up a Mega Evolution stone for the critter, which should make them quite a bit more powerful.
The Diancie promotion runs until Nov. 16 but, like I said, you might want to step on it if you don't want to be disappointed. As for the latest versions of Pokemon, you can once again catch em all with Omega Ruby and Alpha Sapphire on Nov. 21, exclusively on the Nintendo 3DS.
Your Daily Blend of Entertainment News
Staff Writer for CinemaBlend.