Pokemon Omega Ruby And Alpha Sapphire Demo Arrives, Here's How To Get It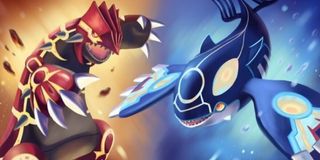 Nintendo has released a free demo for Pokemon Omega Ruby and Alpha Sapphire. Getting the demo will take some extra effort on your part, though.
There are six different ways to acquire the demo, according to Nintendo:
Movie theaters nationwide will be handing out download codes between November 7th and November 13th.
Local retailers will also host giveaways "during the holidays." Like theaters, these stores will have a limited supply.
Anyone who buys Pokemon Art Academy (coming October 24th) on 3DS or 2DS through the Nintendo eShop will get a demo code.
Virtual Console releases Pokemon Puzzle Challenge (November 6th) and Pokemon Trading Card Game (November 13th) will also come with the demo. The code will be on customers' eShop receipt.
Nintendo will email demo keys to select Nintendo Network users who signed up to receive promotions in their inbox. These emails will be sent out on the week of October 31th.
A national tour will stop at 16 different malls from November 24th to December 21st. Gamers who try out Omega Ruby, Alpha Sapphire or other 3DS games will get two demo codes. The tour locations will be announced in the near future.
Nintendo previously announced that Pokemon Omega Ruby and Alpha Sapphire's demo features exclusive content. There's special incentive to play it multiple times, too.
"You can play the Pokémon Omega Ruby and Pokémon Alpha Sapphire Special Demo Version as many times as you like. Look for special scenarios that occur if you play every day," Nintendo said.
In the demo, players will find returning Pokemon that can now Mega-Evolve. They'll be able to bring this Pokemon to the full version of the game along with any items obtained in the free trial.
GoNintendo says that gamers are already receiving emails with demo codes from Nintendo. If you're not one of these lucky souls, you can watch a full play-through of the demo below:
Pokemon Omega Ruby and Alpha Sapphire are remakes of Game Boy Advance titles Pokemon Ruby and Sapphire. The remakes feature 3D graphics like last year's Pokemon X and Y. New additions to the roster of creatures include Primal Kyogre and Groudon, more powerful versions of the Legendaries in the original games. Players will be able to create their own bases in the Hoenn region and invite other players to visit.
Omega Ruby and Alpha Sapphire will debut on November 21st on 3DS and 2DS.
Your Daily Blend of Entertainment News
Staff Writer at CinemaBlend.
Your Daily Blend of Entertainment News
Thank you for signing up to CinemaBlend. You will receive a verification email shortly.
There was a problem. Please refresh the page and try again.