Don't Starve Now Available On Steam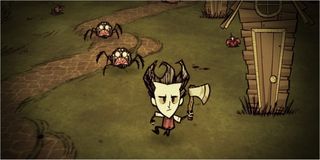 The ecological-survival game from the small indie team at Klei Entertainment, the same minds behind the much lauded Shank games, has officially launched for PC on Steam. The game is a different take on the survival genre and has gained quite a following with its alpha and beta builds leading up to release.
The actual description of the game is that...
That description is actually just scratching the very surface of it all. Don't Starve has a very cool premise insofar that you don't just end up in a strange world and try to kill everything in sight; it's not that kind of game. Instead, players are encouraged to make "friends" where they can, make enemies only when necessary and by all accounts, survive for as long as possible in order to escape the hostile and unforgiving world.
Much like other emergent survival games in the growing genre, Don't Starve allows players to eat, fight, and interact with the environment to craft useful tools, weapons and gadgets in order to progress in the game and advance through the world.
Klei could have a serious winner on their hands here, and not necessarily because it's this completely new take on survival (although, sort of, it is) but it has a lot to do with the really awesome art-style and presentation of the game, as well as the whole developing relationships with the world's inhabitants.
You can pick up a digital copy of the game for 10% off right now on Steam for only $13.99. For more info feel free to visit the official page.
Staff Writer at CinemaBlend.
Your Daily Blend of Entertainment News
Thank you for signing up to CinemaBlend. You will receive a verification email shortly.
There was a problem. Please refresh the page and try again.