Download Command & Conquer: Red Alert 2 For Free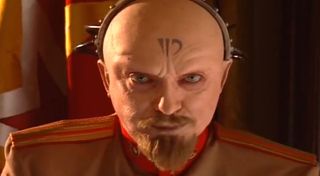 Considered as one of the very best RTS games back during the day, Command & Conquer: Red Alert 2 is currently free right now on Electronic Arts' digital distribution service, Origin. It's part of their "On The House" program where they occasionally give away free games.
If you head on over to the Origin website you should be able to get Red Alert 2 for free... on the house, as they might say. Not only is Red Alert 2 available for free but the expansion Yuri's Revenge is also available for free as well.
At the moment the website is being pounded with hits and so both Command & Conquer: Red Alert 2 and Command & Conquer: Red Alert 2 Yuri's Revenge are unavailable until the traffic clears up. This is a common occurrence whenever a large company announces that some game is available for free. In fact that just recently happened when Frictional Games recently announced that gamers could get their hands on their previously released horror game, Amnesia: The Dark Descent, for free. Steam got hammered with traffic and the page for Amnesia was briefly offline.
In the case of Command & Conquer, EA is both the publisher and the distributor (since they own Origin) so they can pick and choose when many games from their illustrious library go on sale.
They previously had "On The House" giveaways for a few of their other games, usually with the same results: they make the announcement and then Origin gets flooded with gamers piling in to get their hands on a free game.
In the case of Command & Conquer it should come to the surprise of no one that a lot of hardcore real-time strategy fans who grew up with Westwood Studios would want to get their hands on what they would consider one of the greatest real-time strategy games ever made.
Usually there is a game series to which many other RTS games are measured and it's Command & Conquer. Now these days it's StarCraft II, but before Blizzard took charge of the genre it was Westwood Studios' C&C. The game was praised for its balance, unit control, and over-the-top cinematic storytelling.
Over the course of recent years Electronic Arts has tried reviving the series in a number of different ways but most have fallen through, including a reboot of the game that was in the works by BioWare Victory. The game was to be a free-to-play title but it didn't quite materialize. Then again around that time EA was dealing with being labeled the Worst Company in America and trying desperately to rebrand in the eyes of the public. They've partially succeeded.
Nevertheless, the free "On The House" giveaways definitely help with their public image because people just have to sign up for an Origin account and login to get a free game. In this case that free game is a classic from the 1990s in the venerable Command & Conquer series.
While Origin may be down intermittently due to all the traffic, be sure to check in regularly to see when the games are available again. There's no time frame on when Red Alert 2 and Yuri's Revenge will be free for gamers but work fast because they won't be on the house for long.
Staff Writer at CinemaBlend.
Your Daily Blend of Entertainment News
Thank you for signing up to CinemaBlend. You will receive a verification email shortly.
There was a problem. Please refresh the page and try again.