Command And Conquer Reboot Cancelled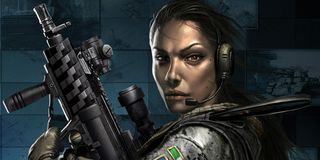 EA has canned the upcoming reboot of Command & Conquer following years of development. They have plans to shut down the development studio responsible as well.
The game announced as Command & Conquer: Generals 2 at the 2011 Spike VGAs. At the time, EA called it the "next big BioWare franchise." Development was headed up by BioWare Victory, a studio created solely to revamp the real-time strategy series.
Generals 2 was envisioned as a traditional C&C game. Players would take on the role of Global Liberation Army, China or the United States in separate campaigns set in the near future. They could also challenge other players in skirmishes online.
However, at Gamescom 2012, EA revealed that they were retooling the project. The game was now planned as a reboot and called simply Command & Conquer. Instead of being a campaign-driven experience like previous C&C chapters, this reboot was a free-to-play multiplayer game. Victory Games (the new name for BioWare Victory) would launch the game with units and factions from Generals storyline at first and then weave in the Tiberium and Red Alert universes later.
While this new vision for the game seemed to fit well with the industry trends toward free-to-play and multiplayer experiences, C&C fans weren't digging it. Their poor feedback led EA to pull the plug.
"Your feedback from the alpha trial is clear: We are not making the game you want to play," the company said on C&C's website. "That is why, after much difficult deliberation, we have decided to cease production of this version of the game. Although we deeply respect the great work done by our talented team, ultimately it's about getting you the game you expect and deserve."
EA insists that they're not abandoning C&C altogether. They want a reboot but they just don't want this reboot. There's a chance that C&C fans will get the game they want in the end.
"We believe that Command & Conquer is a powerful franchise with huge potential and a great history, and we are determined to get the best game made as soon as possible. To that end, we have already begun looking at a number of alternatives to get the game back on track. We look forward to sharing more news about the franchise as it develops."
Victory Games won't be part of the efforts to fix C&C. An EA spokesperson told Polygon today that the development team is being disbanded. It's not clear what studio will be taking over the reboot.
It seems like the EA, now under new CEO Andrew Wilson, is taking a long hard look at all of their games and studios. EA also announced today that they're cutting ties with Tiger Woods, the long-time frontman for their PGA Tour games.
Your Daily Blend of Entertainment News
Staff Writer at CinemaBlend.