Download Ultima 8 For Free Now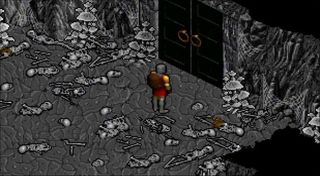 Right now, for a limited time, you can grab a free copy of the 1994 RPG Ultima 8. That's right: Risk free, with nothing to lose and everything to gain, gamers can step out into the world of EA's digital distribution arena and pick up a copy of Ultima 8 with no strings attached and no obligations.
The news popped up hot and heavy and almost out of nowhere like a speeding truck through a misty fog on the dark Wildcat Hills of Northern Nebraska. Electronic Arts printed the news on their "On The House" page on the Origin website.
Quite naturally, most gamers are probably wondering what the "catch is". EA already beat you to the punch. Right there on the website they state...
They also mention that this is not a demo; you can download the game and once you do so you keep it. It's not a trial, it's not a free-to-play alternate version of the game or part of some gimmick promotion. It's a free game with no strings attached.
Electronic Arts has done this before with games on Origin, and they appear to be committed to sticking to this promotional tactic for the service. In fact, just last month back in early March Electronic Arts let loose the original Syndicate for free.
Before that, EA also allowed gamers to get in some free play-time with The Sims 4. The company also allowed gamers to get their hands on SimCity 2000 not too long before their Sims 4 campaign. And if we really want to take a time machine and travel back a bit, EA also allowed gamers to get some free time in on Dragon Age: Origins.
While EA gets a lot of heat for many of the things that they do, from the endless missteps with the Battlefield franchise to the recent grumblings over Star Wars: Battlefront, they do appear to be working toward trying to repair their relationship with gamers.
If EA really wanted to capitalize on some goodwill from the gaming community they would attempt to rival Steam with their own version of the Workshop for mods. Then again, EA is the reason that Battlefield no longer supports mods, so I doubt cashing in on the anger towards Valve and the paid mods for Skyrim would work out too well when EA's biggest series no longer supports mods.
Even still, slowly growing their brand to compete with Valve could prove to be good for business only so that if Valve tried anything like the paid mods scheme again there will be a competitor there big enough to keep Valve in check. With EA offering free games for the time being, it definitely helps them gain just a little bit of an extra market foothold to stand as a worthy competitor against Valve... even if they have to do it one Ultima 8 Gold Edition download at a time.
Your Daily Blend of Entertainment News
Staff Writer at CinemaBlend.