Dragon Age 2 Legacy DLC Released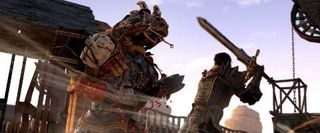 Your copy of Dragon Age 2 will no longer collect dust on your shelf. BioWare has released the role-playing game's first post-launch downloadable adventure, entitled "Legacy."
"Targeted by a vicious criminal cartel that are hunting 'the blood of the Hawke,' you must put an end to their relentless attacks. Leave Kirkwall, and journey to an ancient Grey Warden prison in order to find the source of the aggression and uncover the harsh truth about the Hawke lineage," reads BioWare's description of the new content.
"Legacy" is playable from any point in the DA2 campaign. Might be a good idea to play it early on, as you'll earn a powerful new weapon. The weapon is class-specific and can be upgraded to your liking. On the other hand, you might need a seasoned party to survive the adventure; new breeds of darkspawn and an "ancient horror" await you in this new adventure.
The DLC is available for the PC, Mac, PS3, and Xbox 360. It'll cost you $9.99 (or 800 Microsoft/BioWare Points) to download.
Staff Writer at CinemaBlend.
Your Daily Blend of Entertainment News
Thank you for signing up to CinemaBlend. You will receive a verification email shortly.
There was a problem. Please refresh the page and try again.