Dragon Age Going Multiplayer?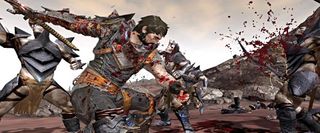 BioWare's fantasy RPG series Dragon Age may expand beyond its single-player roots soon. A new report states that they're in the process of creating an arena-based multiplayer.
Kotaku, citing an inside source, says that players will get to take on the role of both humans or dragons. Players will be able to battle each other or A.I. enemies. This multiplayer will utilize DICE's Frostbite 2 engine, which debuted with Battlefield 3.
It's not clear in what form the multiplayer will be released, though. It could be released as a standalone, downloadable game. The alternative is that this online feature will be rolled into a larger Dragon Age game, such as Dragon Age III.
It seems plausible that Dragon Age would go multiplayer. The third installment of BioWare's other single-player RPG series, Mass Effect, will introduce four-player co-op. If they think multiplayer is the way to buoy one of their franchises, why not the other as well?
BioWare has yet to announce a release window for Dragon Age III. Dragon Age and Mass Effect games tend to alternate each year, though, so with ME3 arriving in early 2012 we might have to wait until 2013 for DA3. The advantage of releasing a downloadable multiplayer game would be that it could be presumably released faster than that.
Staff Writer at CinemaBlend.