Dragon Ball Xenoverse DLC Pack 2 Details Revealed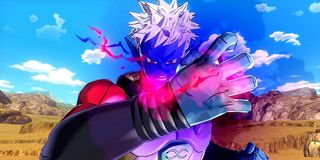 A lot of folks are still enjoying Dragon Ball Xenoverse, especially now that the first batch of DLC content has launched for all platforms. Now it's already time to get pumped for the second dose of post-launch adventures, as the developers at Dimps have finally announced what players can expect out of "GT Pack 2."
Dragon Ball Xenoverse launched about a month ago and has already managed to put up some impressive figures, with Bandai Namco announcing more than a million copies of the game had shipped worldwide. When the game launched, it had the requisite DLC Season Pass in tow, promising three bundles of extra content for another 25 bucks.
The first bit of DLC launched earlier this week, giving players access to new playable characters, outfits, story missions, masters and side quests to tackle leading into the non-cannon Dragon Ball GT storyline. Now that journey is set to continue, as Dimps announces GT Pack 2 will be the next DLC pack heading to the popular game.
Much like the first pack, you can expect a little bit of everything out of this latest offering. And while no official release date has been announced yet, rumors are circulating that this pack could go live by the end of the month. So, what's included this time around?
For starters, you'll be getting four more playable characters, including two of Xenoverse's antagonists, Mira and Towa, as well as two baddies from the GT storyline, Eis Shenron and Nuova Shenron. The GT campaign will be continued with another three Time Patrol Quests, and further fleshed out with another trio of Parallel Quests. You'll also be able to take on Pan GT as a new master, who will give you an additional five Master quests.
For those of you who like to customize your characters, six new costumes will also be available in the DLC, including Pan, Gogeta, Super 17, Mira and Towa's duds. You'll also have the ability to learn another 24 signature moves from all of those new characters, as well as six new Z-Souls to fine-tune your fighters. If you don't have the season pass, all of that will set you back another 10 bucks.
I usually have a problem with DLC coming out so quickly after a game launches and, since there was no download for the first DLC pack, it's pretty obvious that all of this content was baked into the game. It's a sleazy practice but, like with a handful of other games, it's hard to complain when the core game is actually stuffed with content. If this stuff felt missing in the first place, I'd have to call foul. As it is, Xenoverse still has me coming back for more and I'm still far from experiencing everything that's available in the core game.
Now it's time to begin speculating on what that third and supposedly final bit of DLC will include. With a new Dragon Ball movie focused on yet another resurrection of Frieza on the horizon, I'm guessing that's a likely place to start.
Your Daily Blend of Entertainment News
Staff Writer for CinemaBlend.
Your Daily Blend of Entertainment News
Thank you for signing up to CinemaBlend. You will receive a verification email shortly.
There was a problem. Please refresh the page and try again.