Duke Nukem Forever Screenshots Feature Duke's Atomic Monster Truck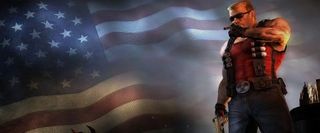 With a nearly innumerable amount of delays over close to a lifetime of development, Duke Nukem Forever is almost ready for release. A new batch of screenshots was let loose on the public to ensure that Gearbox will not be bogged down by a game that curses its developers with the delay disease.
The new screenshots are basically a collection of shooting segments and one very surprising twist and it's that Duke has an atomic monster truck. I mean, what else would you expect the King to drive, a Ford Taurus?
Based on the screenshots, though, it really looks like Duke Nukem Forever is just going to be a balls-out, blast-fest consisting of non-stop thrills and fun…and it better be, given the amount of time FPS fans have been waiting for this game to release.
You can check out the new screenshots below or learn more about the pre-order bonuses by visiting the Official Website.
Image 1 of 5
Image 2 of 5
Image 3 of 5
Image 4 of 5
Image 5 of 5
Staff Writer at CinemaBlend.
Your Daily Blend of Entertainment News
Thank you for signing up to CinemaBlend. You will receive a verification email shortly.
There was a problem. Please refresh the page and try again.