EA's Scrabble Gets Lambasted By Users; New Updates On The Horizon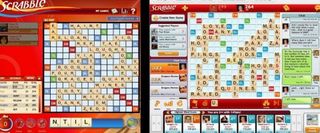 Back in July we reported on the rising angst among gamers who played EA and Hasbro's Scrabble via Facebook and on their mobile phones. The issues with the game concerned things such as long load times, cluttered screen space (even for the paid version) and poor feature implementation. Well, a rep for EA says that they have heard the complaints and will be fixing the issues.
We were originally contacted by a group of Scrabble players frustrated with the way EA has been handling the casual pastime game and how poorly the game has been progressing with each update. It started when the original board was replaced with a newer board, the screen space for playing shrunk to make room for more social interactivity and the feature to nudge/forfeit a match made playing some games cumbersome and long.
According to one Scrabble player we chatted up regarding the updates, he states...
Other users recounted similar horror stories when trying to play Scrabble, usually citing the game's intrusion of ads and the clutter still being a problem, even though some issues have been resolved such as the load times and streamlined process of playing the game.
Scrabble has received minor one-star review bombing on the official app page (opens in new tab) from a few unhappy players who reiterated a lot of the problems mentioned above. One of the user reviews holds nothing back – regarding the latest update that went live in August – saying...
The issues haven't gone unheard, though. EA was quick to respond to the original article back in July that detailed a lot of angry complaints from Scrabble users. They were more than willing to address complaints before we ran this article, with EA representative Alexis McDowel saying...
So there you have it, folks. You'll see some updates, upgrades and fixes in additional patches planned to release over the course of the next few months.
I imagine there's a huge balancing act between trying to please the higher ups behind the desk and trying to implement changes that better reflect positive player feedback.
Is it possible EA could pull a Valve and just say..."Oh hai guys, here's an ad-free, clutter-free, player-focused feature set without all the noise. Enjoy!!!" I doubt it.
Hopefully the updates rolled out over the next couple of months will address the player concerns so that gamers can get back to what they enjoy most about the interactive entertainment industry: having fun.
Staff Writer at CinemaBlend.
Your Daily Blend of Entertainment News
Thank you for signing up to CinemaBlend. You will receive a verification email shortly.
There was a problem. Please refresh the page and try again.