EA Sports MMA Multiplayer Shutting Down Soon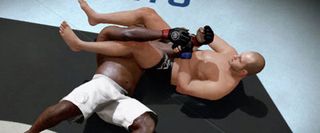 Electronic Arts will be shutting down online services for 11 games in April. One of the games on the chopping block is EA Sports MMA, the company's much-hyped entry into the mixed martial arts genre.
"The decisions to retire older EA games are never easy," said EA. "The development teams and operational staff pour their hearts into these games almost as much as the customers playing them and it is hard to see one retired. But as games get replaced with newer titles, the number of players still enjoying the older games dwindles to a level -- fewer than 1% of all peak online players across all EA titles -- where it's no longer feasible to continue the behind-the-scenes work involved with keeping these games up and running."
Here's the full list of games losing their online features on April 13th:
BOOM BLOX Bash Party for Wii
Burnout Revenge for Xbox 360
EA Create for PC, PlayStation 3, Wii and Xbox 360
EA Sports Active 2.0 for PlayStation 3, Wii and Xbox 360
EA Sports Active NFL Training Camp for Wii
FIFA 10 for PlayStation Portable and Wii
The Godfather II for PC, PlayStation 3 and Xbox 360
MMA for PlayStation 3 and Xbox 360
Need for Speed ProStreet for PlayStation 3 and Xbox 360
The Saboteur (loss of The Midnight Club access) for PlayStation 3 and Xbox 360
Spare Parts for PlayStation 3 Xbox 360
EA Sports MMA's inclusion on the list is bound to be a bit controversial. MMA actually requires an Online Pass in order to play online. The one-time activation code for the Pass is included with new copies of the game. If you picked up a pre-owned copy, you have to buy the Pass through PSN/Xbox Live Arcade to unlock multiplayer.
Still, what can EA do? They're not going to keep a game's multiplayer running forever just because you paid $60 for a game - why would they do it if you paid for an Online Pass? At the end of the day, it's not worth it for them to keep these games online. It's best to keep this possibility in mind when you're considering whether or not to spring for an Online Pass.
Your Daily Blend of Entertainment News
Staff Writer at CinemaBlend.