EA Sports UFC Release Date Set; Bruce Lee Is Pre-Order DLC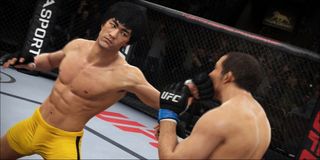 [Update: You don't have to pre-order Bruce Lee as DLC to play as him in the game, it's just a faster way to unlock him. According to the official website anyone can unlock Bruce Lee by beating the career mode once.]
Electronic Arts has confirmed the mystery fighter in their upcoming UFC game, doing so after a handful of teases and guessing games. The good news is that the mystery fighter truly is Bruce Lee, usually proclaimed by fighting fans the world around as the grandfather of MMA. The bad news is that Bruce Lee is pre-order DLC... but I'm sure jaded, cynical, used-to-it-by-now core gamers already saw this one coming.
EA posted a nice little blog piece about Bruce Lee on their official EA Sports UFC page. Creative director Brian Hayes writers about why they chose Bruce Lee for the role of the mystery fighter, writing...
The post is actually quite fascinating, as it explains what lengths EA had to go through, and how artist Stephan Chan excelled at recreating the movie and martial arts icon specifically for EA Sports UFC.
Quite naturally, I imagine many of you actually want to see Mr. Lee in action, eh? Especially before you decide if you want to pre-order or not. Well, EA obliged enough to roll out a gameplay trailer of Bruce in action.
Okay, so Bruce lee was like in two seconds of that. Fail.
However, that trailer was legit for everything else it showcased. It's hard not to be excited if you're a fan of fighting games and have been longing for something intense and technical. It's rare we get those kind of "realistic" fighting games outside of boxing titles every once in a blue moon, whenever EA feels like they can cash in on the sport.
I do admit that if there weren't so many burns and users getting their finances flailed by cash-in jobs like Aliens: Colonial Marines or Street Fighter X Tekken, I wouldn't be so averse to the whole pre-order scheme. But history has told us that not holding the wallet is what leads to more wallet fleecing. So, as much as I love Bruce Lee and as much as I would like to play him in this game, I'm going to hold the wallet for now. Dang that pre-order scheme.
Anyway, OnlySP spotted an image floating around on NeoGaf from a Gamespot ad that preemptively revealed the Bruce Lee DLC and the release date for the game, which is scheduled for June 17th for the Xbox One and PlayStation 4.
With more than 100 fighters in the game, online modes, create-a-fighter and Bruce freaking Lee in the game, I admit that this is going to be a hard game to pass up for passionate MMA fans.
Your Daily Blend of Entertainment News
Staff Writer at CinemaBlend.