Early Ni No Kuni Review Scores A Perfect 10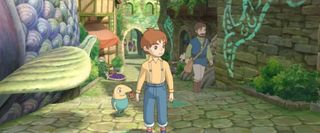 Ni No Kuni: Wrath of the White Witch released late last year in Japan and is due out at the end of this month for the PlayStation 3 here in North America. However, some reviewers from the UK and the US have already managed to get hands-on time with the game Ni No Kuni has already picked up a perfect 10/10 at some outlets.
I've been pretty excited for Ni No Kuni because it looks like a JRPG that takes the natural evolution of the genre and moves it forward with the appropriate respect and tact for the community and the industry. Made in collaboration with renown Japanese animation studio, Studio Ghibli, Ni No Kuni is a sort of coming-of-age story that mixes a lot of classic themes of good versus evil but with a hint of new-school character development, skills, real-time combat (with turn-based properties) and plenty of exploration.
PlayStation LifeStyle has an import review of the game and they've already marked it as a perfect game. It looked exceptional just based on the videos and demos, but don't think that's just an impression from public media assets...other sites are chiming in with the high scores as well, GameMasters UK also scored the game at 95/100 as reported by the Silent Chef. In my opinion, Ni No Kuni seems to be a real gamer's game and those who cherish the actual evolution of challenging game design will probably want to keep an eye on this title.
If you're curious whether the game is worth the hype, you can grab a free demo of Ni No Kuni from the PlayStation Network right now. Additionally, you can look for the game to release on January 22nd Stateside, exclusively for the PlayStation 3.
Staff Writer at CinemaBlend.
Your Daily Blend of Entertainment News
Thank you for signing up to CinemaBlend. You will receive a verification email shortly.
There was a problem. Please refresh the page and try again.