Elder Scrolls Online Launch Times Announced By ZeniMax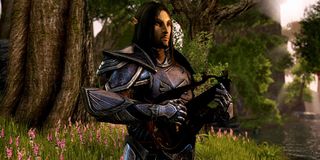 Elder Scrolls Online will have a staggered PC and Mac launch, with some players being able to access the game before others. During a Reddit AMA last night, the development team at ZeniMax Online Studios explained exactly how the MMO's release will play out.
The first people to access the game will be owners of the Imperial Edition, a pricey bundle filled with several other exclusive bonuses. Imperial Edition players get five days of early access, starting on March 30th. If you pre-order the Digital Standard Edition through the official ESO store, you'll get the same early access period. Here's the start time for each territory:
North America (East): 7:00 AM EDT, Sunday March 30th
UK/IE: 12:00 PM WEST, Sunday March 30th
Central Europe: 1:00 PM CEST, Sunday March 30th
Sydney, Australia: 10:00 PM AEDT, Sunday March 30th
Singapore: 7:00 PM SGT, Sunday March 30th
Two days later, all other pre-order customers will be allowed to start playing. Being able to ignore the inevitable flood of April Fool's Day news is an added bonus. The three day early access starts at the following times:
North America (East): 7:00 AM EDT, Tuesday April 1st
UK/IE: 12:00 PM WEST, Tuesday April 1st
Central Europe: 1:00 PM CEST, Tuesday April 1st
Sydney, Australia: 10:00 PM AEDT, Tuesday April 1st
Singapore: 7:00 PM SGT, Tuesday April 1st
As ZeniMax previously announced, the official launch date is April 4th. However, it seems that North American gamers will be able to jump in a bit earlier than that:
North America (East): 7:00 PM EDT, Thursday, April 3rd
UK/IE: 12:00 AM WEST, Friday, April 4th
Central Europe: 1:00 AM CEST, Friday, April 4th
Sydney, Australia: 10:00 AM AEDT, Friday, April 4th
Singapore: 7:00 AM SGT, Friday, April 4th
If you played in the various beta tests for ESO, you won't have to make another account. Your old login should still work. However, your characters from beta will be wiped so you have to start over from scratch. Fortunately ZeniMax has streamlined the opening of the game to make replaying the early levels less of a chore.
"Also, if you have been in the beta and are going to play when ESO launches, don't uninstall the game – when the servers go live, just run the same patcher as you always have, and any delta files will be downloaded from there," director Matt Firor said during the Reddit AMA. "You don't need a clean install. This will save you lots of time over completely re-downloading the game."
Firor previously promised a lag-free launch for all territories. The European megaserver will be hosted in North America at first to make fixes more efficient, but he said that this won't cause latency for gamers in Europe. When the megaservers is finally moved to the European datacenter, the migration should happen without players noticing.
If there's a queue for the official servers, players will have the option of joining overflow servers. The overflow servers don't have social features but allow you to start playing right away. Your progress will then be carried over to the main megaserver when you first log into it.
Your Daily Blend of Entertainment News
Staff Writer at CinemaBlend.