Elder Scrolls Online PS4 And Xbox One Will Still Support Character Transfers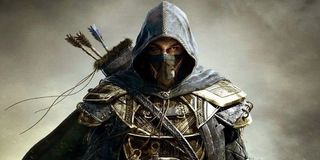 Elder Scrolls Online's PS4 and Xbox One release date is way later than first expected. Fortunately, ZeniMax's plans for character transfers haven't changed.
"We haven't forgotten about those of you who have been waiting to transfer your PC or Mac characters to the Xbox One or PlayStation 4," director Matt Firor said on the game's website. "If you bought the PC or Mac version of ESO and activated it before June 30th, 2014, you're eligible for The Elder Scrolls Online: Tamriel Unlimited with account copy, which will be priced at $20."
Eligible players will be able to transfer all of their characters to a destination of their choosing. All of the transferred characters will retain their possessions. Firor says that you'll be able to arrange your transfer long before the PS4 and Xbox One launch on June 9th. They'll send out emails to players when the feature is available.
I'm surprised they didn't make the cut-off date for console transfers a bit later. June 30th of last year was just a mere two months after the game's launch on PC and Mac. In other words, only the early adopters of the game are really able to take advantage of this offer. That seems like a misstep; more Xbox One and PS4 owners might have purchased ESO on PC or Mac over the past few months if they had characters transfers available to them.
ESO was originally supposed to launch on PS4 and Xbox One in June 20th. Today Firor reiterated his earlier explanation for the long delay: they didn't want the console versions to feel like a port.
"When you play ESO on either console, it should feel like the game was made for that platform. Also, as we worked on parallel teams to develop the console version, we had the initiative to improve the console experience by taking advantage of voice chat and adapting the game for play on a controller. This led to the development of a completely new user interface, as well as many features that take advantage of the built-in services that the Xbox One and PlayStation 4 offer."
As part of the update, Firor shared a picture of the controller layout for ESO on consoles. The controls should be a lot less awkward than thethird-party solutions needed to use a gamepad on PC and Mac, which forced players to use the analog stick as a virtual mouse cursor for the menus:
Elder Scrolls Online's console versions will be free-to-play, aside from the PlayStation Plus and Xbox Live subscription fees. The original PC and Mac versions will likewise shedding their subscription requirement in March and offering optional in-game purchases.
Your Daily Blend of Entertainment News
Staff Writer at CinemaBlend.