Elder Scrolls V: Skyrim Sold Over Three Million On Launch Weekend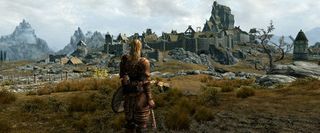 Zenimax Media, parent company of Bethesda Softworks, announced today that Elder Scrolls V: Skyrim had a strong launch this weekend. They've shipped over seven million copies worldwide, and sold over 50% of those copies within the first 48 hours of its release.
"We are grateful for the fans' response to Skyrim," said Robert Altman, ZeniMax Media's chairman and CEO. "Todd Howard and his team at Bethesda Game Studios have crafted a very special game. Anticipation for Skyrim has surpassed any game in our company's history, and we are pleased that sales and reviews have reflected the quality and hours of amazing gameplay it provides."
Zenimax expects that the launch copies for the game will generate over $450 million in sales. The company is receiving "large" reorders from retailers across the world as well, suggesting that the game will continue to sell well through the remainder of the holiday season.
Skyrim is set 200 years after the events of Elder Scrolls IV: Oblivion. Dragons have returned to the the northern province of Skyrim and may herald the return of a dark god. The player is the last of the Dragonborn, an individual capable of stealing dragon's power and using it against them.
Like other Elder Scrolls games, Skyrim features open-ended gameplay. You're free to deviate from the main quest and explore the massive game world. The province of Skyrim is filled with dungeons, quests, and hidden treasures. Oh yeah, and there's a lot of dragons.
"Without a doubt, this has been our most ambitious project ever," said Todd Howard, Skyrim's director. "After over three years of development, we're finally excited to get it into everyone's hands."
Staff Writer at CinemaBlend.
Your Daily Blend of Entertainment News
Thank you for signing up to CinemaBlend. You will receive a verification email shortly.
There was a problem. Please refresh the page and try again.