Fable Legends PC Won't Be Available On Steam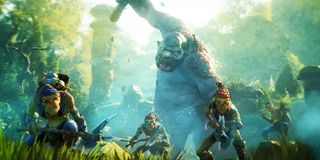 Fable Legends is an upcoming free-to-play roleplaying title from Lionhead Studios. There will be a PC version of the game, but you won't find it on Steam.
GameSpot reports that according to Lionhead Studios' social media coordinator, the game will not be coming to Steam, and will only be available on Windows 10.
Lauran, with the handle @LHAlbionGirl, confirmed to fans tweeting questions about the upcoming title that Fable Legends will be "coming to Windows 10 and Xbox One as Microsoft exclusives."
Keeping Fable Heroes off of Steam is likely a nod to Microsoft's impending push for Windows 10 users to be a large part of their goal to include more gamers in the wave of Windows adopters. So it's not that surprising that the game won't find a Steam release, but it may end up being a bad decision for the title, given Steam's reputation and the fact that generally every PC release these days is available there. It'll be interesting to see how this works out for Microsoft and Lionhead Studios in the interim.
Fable Heroes is the latest entry in the Fable series, though it's a massive departure from what we've seen in the past. It's going to focus on four heroes and one main villain, with every role available to players via online multiplayer or an AI player.
It'll take place hundreds of years before the events that unfold in the original Fable, during a time where things were much, much different. Apparently there were more heroes back then, and it was a simpler time where magic was much more prevalent. Technology wasn't factored into human growth or society, and an artifact known as The Moon on the Stick is a special treasure that Heroes are setting out to procure.
The studio plans on supporting this game for a 5-10 year life cycle, using the cloud features of Xbox One and Windows 10 along with SmartGlass features to make plans in groups and more. It'll also feature cross-platform play between Xbox One and Microsoft Windows 10 users.
The free-to-play elements haven't yet been focused on in past reveals, however, so hopefully it's not too rife with the very same pitfalls that plague modern gaming. It'll be fun to explore a new chapter in the Fable series, however, since it's been far too long since we've had a proper one since Fable III. Come to think of it, are we ever going to see a Fable IV?
Your Daily Blend of Entertainment News
Thank you for signing up to CinemaBlend. You will receive a verification email shortly.
There was a problem. Please refresh the page and try again.