Fallout 4 Pip-Boy Edition Goes Back On Sale, Immediately Sells Out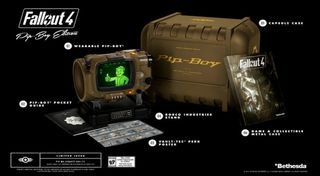 One of the most anticipated limited collector's edition bundles for a game went on sale again, and just as soon as it went on sale it immediately sold out. The Pip-Boy Edition of Fallout 4 was an instant-success when it was unveiled at E3 and it appears it's still just as desired now as it was when it was first announced.
Game Informer spotted the recent update over on the official Fallout 4 website where the Pip-Boy Edition was announced to be available once more for purchase after it instantly sold out following its big reveal at E3. However, as soon as Game Informer reported on the collector's edition being made available, it was sold out again.
So what makes this particular collector's edition so important? Well, it comes with a working, life-sized replica of the Pip-Boy, the exact same device that players use in the Fallout games.
The collector's edition contains a copy of Fallout 4, a Pip-Boy pocket guide that allows you to check out the perk list at your own convenience, power armor packaging, and the one thing that has everyone all goo-goo for the collector's edition: the Pip-Boy replica.
So what's so special about this life-sized replica from the Fallout universe? Well, it's actually functional. The device is wearable on the user's wrist and works with a number of different mobile smart devices, including Android and Apple iPhones. You can slide the phone into the Pip-Boy and it will actually work, including offering users touch-screen support. There's an accompanying app that users can install to make it truly replicate how the Pip-Boy functions, complete with the green CRT monitor-style presentation. The app enables users to manage their in-game inventory, check on their perks, and scope out the holotapes.
Alternatively one could simply use the Pip-Boy as one giant smart watch. However, I tend to doubt you'll want to make calls with it because you'll have to hold the mammoth thing up to your ear while you talk or put it on speaker phone and yell into your wrist as you have a conversation.
The Fallou 4 limited edition has proven to be more popular than most people probably imagined. But the last Fallout game came out back in 2010, so it's been a five year gap since the last official outing for the game... just long enough to fuel some serious hype for the new title.
This fall season is likely to see Fallout 4 dominate the news wires and the community forums given that the game is a huge expansion over Fallout 3 and Fallout: New Vegas. Some of the new features includes voice acting for the male or female protagonist in the game, as well as a very advanced character creation module. There's all new perks and there's no longer a level limit, so replayability is entirely on the table and you can play for as long as you like with no worries about hitting that limit. There's an all new crafting and building mode where players can build up their own towns and defend them, and there's a lot more stuff that people haven't seen yet.
While the limited collector's edition may be all sold out, you can look for Fallout 4 to launch for the PS4, Xbox One and on PC starting November 10th.
Staff Writer at CinemaBlend.
Your Daily Blend of Entertainment News
Thank you for signing up to CinemaBlend. You will receive a verification email shortly.
There was a problem. Please refresh the page and try again.