Fallout 4 System Requirements And Launch Time Announced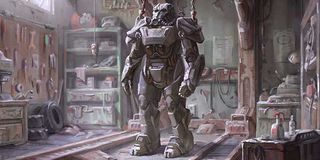 Fallout 4's launch is only a month away now so Bethesda's ready to reveal all of the details about the game's launch. They shared the system requirements today and also cleared up a few other questions you might have about the open-world RPG.
The PC version of Fallout 4 will require Steam as well as an internet connection. Here are the other requirements your PC will have to meet (via Bethesda.net:
Minimum
Windows 7/8/10 (64-bit OS required)
Intel Core i5-2300 2.8 GHz/AMD Phenom II X4 945 3.0 GHz or equivalent
8 GB RAM
30 GB free HDD space
NVIDIA GTX 550 Ti 2GB/AMD Radeon HD 7870 2GB or equivalent
Recommended
Windows 7/8/10 (64-bit OS required)
Intel Core i7 4790 3.6 GHz/AMD FX-9590 4.7 GHz or equivalent
8 GB RAM
30 GB free HDD space
NVIDIA GTX 780 3GB/AMD Radeon R9 290X 4GB or equivalent
The PC edition will ship with Steam Achievements as well as gamepad support. Xbox One and Xbox 360 controllers can be used with no additional preparation but you may have to do some tinkering for other gamepads.
The PS4 and Xbox One editions of Fallout 4 will require a comparable amount of space. Bethesda estimates you'll need between 28 and 35 GB of space on your console depending on the territory you live in. Speaking of which, these are the supported languages for the game at launch for each region of the world:
North America: English/French voice/text.
South America: English voice/text, as well as BR-PT and Latin American Spanish text.
United Kingdom and Australia/New Zealand: English voice/text only.
Most European territories: English/French/Italian/German/Spanish voice/text
Russia and Poland: English voice/text and Polish/Russian text.
Asia: English voice/text and English voice / Traditional Chinese text.
Japan: Japanese voice/text.
For most territories, Fallout 4 will unlock at 12:01am local time on November 10th. In the case of North America, the game will be available at 12:01 am EST. Gamers in Japan and the rest of Asia will need to wait until December 17th and November 11th to play, though.
The game will launch alongside a Pip-Boy mobile app that lets you manage your character and their inventory. This app will be usable on iOS, Android and Windows Phone devices. If you were one of the lucky few who got the Pip-Boy Edition of the game, you'll get a wrist holster for your phone to turn it into a real-life Pip-Boy. Bethesda says that most smartphones will be able to fit inside this holster:
Fallout 4's Pip-Boy Edition quickly sold out so if you haven't pre-ordered one already, you'll have to make your own Pip-Boy.
Staff Writer at CinemaBlend.
Your Daily Blend of Entertainment News
Thank you for signing up to CinemaBlend. You will receive a verification email shortly.
There was a problem. Please refresh the page and try again.