You Can Now Make A Real Fallout 4 Pip-Boy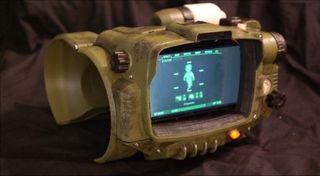 The limited collector's edition of Fallout 4 that came with a real, life-sized Pip-Boy sold out like crazy. Bethesda won't be making anymore and some gamers really want to own their own Pip-Boy. Well, if you can't buy one you can make one and one dedicated fan shows you how.
Eurogamer spotted a video from Yvo de Haas, who has a quick display of a 3D printed rendition of the Pip-Boy 3000 Mark IV. You can check out the video below, which details the device's features.
While the tape player is a nice addition to the device, it doesn't actually play tapes. It at least looks really cool, though.
Haas explains that the device isn't 1:1 accurate to the real thing because it was designed to house today's smartphones. The one Bethesda made was also designed for today's large-screen smartphones. Haas wasn't completely fond of this as it required altering the design of the Pip-Boy to accommodate the phones instead of looking identical to the one from Fallout.
I think in some regards functionality will play a part just as much as aesthetics and leaving out the ability to house specific phones just to make the dimensions more "accurate" seems like needlessly adding extra stacks to a house of cards.
Nevertheless, Haas allows anyone to head to his official website and download the files so that they can print them.
He's also working on a separate version, a Pip-Boy 3000 Mark IV Accurate Edition. This will be slightly less compatible with smart phones but will be more of a true representation of the device from the Fallout series.
The reason the current version isn't claimed as being "accurate" is because according to Haas the details of the device could only be gleaned from the limited appearance the device made during the E3 stage show back in June. Writing on the blog, Haas states...
There are schematics for making the device for different sized smartphones, going from 100%, to 108% to 115% of the original size. In the comment section a few people asked if their S4 Galaxy would fit.
It seems kind of crazy that so many people would want the clunky device, but credit is due for Bethesda pitching the new Pip-Boy as a must-have collectible during their E3 stage conference.
Fallout 4 is due for release on November 10th for the Xbox One, PS4 and PC. And while the official Pip-Boys are all sold out you can still get the 3D printed version from people who make the unofficial Pip-Boy 3000 Mark IV available online.
Staff Writer at CinemaBlend.
Your Daily Blend of Entertainment News
Thank you for signing up to CinemaBlend. You will receive a verification email shortly.
There was a problem. Please refresh the page and try again.