Fallout 4 Won't Be Announced At Spike VGX, Supposed Teaser Site Continues Ticking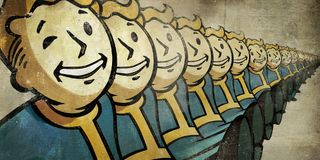 The Spike VGX awards tomorrow might have a few surprise reveals but Fallout 4 won't be among them. Bethesda Softworks says that they won't be showing off anything at the game awards show.
Bethesda VP of marketing and PR Pete Hines set the record straight after Fallout fans began speculating over his travel plans:
Hines added in a later tweet that they simply aren't ready to talk about their current games. That includes projects being developed by Bethesda internally as well as sister companies like id Software and Arkane Studios.
A new chapter of Fallout seems like a foregone conclusion considering the strong sales and reviews of Fallout 3 and Fallout: New Vegas. Some hints from a Fallout 3 voice actor led gamers to expect an announcement in early 2013. Nothing ever came of the teases, though.
Fallout 4 speculation has rebounded lately thanks to a mysterious teaser site. TheSurvivor2299.com is a black-and-white countdown timer with a Vault-Tec logo and Morse code. Fans over at Reddit have spent weeks dissecting the site. It's still not completely clear whether it's Bethesda's handiwork, though.
Even if the teaser website is legit, it doesn't suggest that there's a VGX announcement. The countdown will expire on December 11th instead of tomorrow. It does seem curious that Bethesda would abstain from announcing their game during a big industry event like VGX. Maybe they want to have the stage all to themselves, though. We'll find out either way when that countdown finally expires.
Spike VGX is the latest incarnation of the Spike Video Game Awards. The network decided against another Hollywood-style award show in favor of a multi-platform livestream with interviews, demos and trailers. The games being shown off at VGX include Titanfall, Quantum Break, South Park: The Stick of Truth, Broken Age, Dying Light, Tom Clancy's The Division, and The Witcher 3. The announcements include a new Wii U game, which will be presented by Nintendo of America president Reggie Fils-Aime.
The three-hour livestream of Spike VGX will begin at 6PM Eastern tomorrow. You can catch the show through mobile devices, consoles, Spike.com, Twitch and many other sites. Spike TV will air a highlight show at midnight on December 9th.
Staff Writer at CinemaBlend.
Your Daily Blend of Entertainment News
Thank you for signing up to CinemaBlend. You will receive a verification email shortly.
There was a problem. Please refresh the page and try again.