Skyrim Won't Get Fourth DLC, Developers Moving Onto Next Game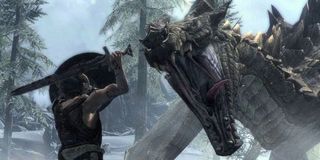 Bethesda won't be creating a fourth DLC pack for Elder Scrolls V: Skyrim. The studio announced today that they've finished added new content to the open-world RPG.
Since Skyrim's launch in November 2011, the development team has produced three add-on packs. The first, Dawnguard, depicted a battle between vampires and the hunters sworn to defeat them. Hearthfire allowed players to build their own custom estate and then defend it from attackers. Dragonborn added the island of Solstheim to the game world and a new questline involving a mysterious cult.
Bethesda never announced a fourth add-on. However, they did file a trademark for the title Redguard back in 2011. Redguard is the name of a race of humans in the game world, and seemed like a possible name for a DLC title. If Bethesda ever planned to make an add-on called Redguard, it seems they decided against it.
In the past year and a half, Bethesda also added new features to the game. PC gamers received a Creation Kit that enabled them to build their own mods. The Xbox 360 version of Skyrim now supports Kinect voice commands. PS3 owners, meanwhile, um, well, they're happy they finally got all the DLC.
"Parts of our team have also been in pre-production on our next major project, and that game is at the point where it requires the studio's full attention to make it our biggest and best work yet," Bethesda said in a blog post. They didn't mention what this next game is. However, it might be Fallout 4.
The studio notes that they'll still provide "minor updates" to Skyrim as needed. If you're still experiencing bugs, then, there's a chance they might address them in future patches.
Your Daily Blend of Entertainment News
Staff Writer at CinemaBlend.
Your Daily Blend of Entertainment News
Thank you for signing up to CinemaBlend. You will receive a verification email shortly.
There was a problem. Please refresh the page and try again.