Far Cry 4's Lead Development Platform Is PC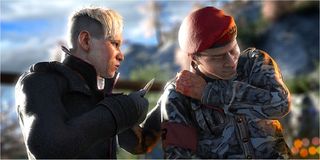 For the first time in quite some time, Ubisoft is using the PC as the lead-in design platform for the upcoming Far Cry 4.
DualShockers caught quotes from creative director for Far Cry 4, Alex Hutchinson – a name many gamers might be familiarized with, given that he's constantly working on one Ubisoft sequel or another – where he revealed on Major Nelson's podcast that Far Cry 4 will be developed first on PC.
Hutchinson stated that...
Usually, AAA titles are designed first for the consoles; in seventh-gen that meant the Xbox 360. Given that the Xbox One and PS4 are now running on x86 architecture, it makes it easier to switch to PC as the lead platform for development and then back-port to the Xbox One and PC, just as Hutchinson mentions.
It was also believed by the gaming community that GTA V was built first on PC and then back-ported to the Xbox 360 and PS3, which is why the game suffers from a lot of the performance issues that it does. Technically, 360 and PS3 owners were beta testers for the new-gen console owners and PC gamers, since GTA V will have more features, better performance and most options made available.
But what does this news mean for gamers potentially looking to purchase Far Cry 4? Well, the upcoming title could benefit from the Crysis or Battlefield 3 effect, where a majority of PC gamers will flock to support the title because it opens up new possibilities for benchmarking and graphics comparisons.
This is all assuming, however, that gamers will want to support Ubisoft and that Ubisoft does a right proper job with optimizing the PC version of the game, opposite of what happened with their recent release of their brand new IP, Watch Dogs, as reported by Forbes.
The ball is now solely in Ubisoft's court. They have opportunity to win over the very skeptical (and rightfully so) PC audience with "wow" worthy content. All they have to do is not screw it up, and they could be looking at another Crysis on their hands... a game that sold more copies on PC alone than Crysis 2 managed to do across three platforms. Then again, Crysis 2 was developed first for the Xbox 360 and ported to PC and PS3, so it was no surprise that the game's sales tanked on PC and it ended up being pirated to oblivion.
Far Cry 4 is set for release on November 18th for old-gen consoles, new-gen consoles and PC. You can learn more about the game by paying a visit to the official website.
Your Daily Blend of Entertainment News
Staff Writer at CinemaBlend.