Final Fantasy 15 Demo Included In Final Fantasy Type-0 HD Collector's Edition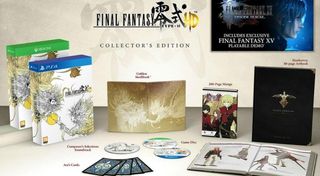 One of the most awaited JRPGs set for release on the Xbox One and PS4 just raised its value a tad bit more with the announcement of the Collector's Edition. The news confirms that those who purchase the collector's edition or purchase the "Day One" edition will receive a digital code to access the Final Fantasy XV demo.
The news was made apparent on the official Final Fantasy Type-0 page on Square Enix's website. The Collector's Edition contains a golden steel-book case with artwork from famed artist Yoshitaka Amano. There's also a 15-song soundtrack included on a physical CD. The tracks were hand-picked by the game's composer, Takeharu Ishimoto.
While the above features would make most fans excited to pay a little extra for the Collector's Edition, there's actually more. A 200-page manga helps flesh out the game's story and characters, giving die-hard fans an opportunity to learn more about Type-0's world. An 80-page art book is also included in the package along with the Ace's Cards... replica cards from the Class Zero group.
Last but most important is the digital code for a playable demo of Final Fantasy XV called Episode Duscae, which will be available in both the Collector's Edition and the "Day One" edition.
It was previously mentioned that gamers would have a chance to get their hands on Final Fantasy XV by purchasing Final Fantasy Type-0 HD, but now you know the exact conditions on which that arrangement will be fulfilled.
As mentioned over on the PlayStation blog, the demo won't be available at any time outside of the Collector's Edition for Type-0, with Square Enix's associate product manager, Scott Strichart, explaining...
Final Fantasy Type-0 HD was originally a Japanese-only release for Sony's portable handheld device. The game garnered a lot of fanfare from gamers overseas who really wanted to play it, based on the trailers and promotional pieces for the game.
Fans became so desperate to get their hands on Type-0 that they opted to make a fan translation for the PSP. However, when Square Enix caught wind of the project they had it shutdown. The upside was that the game was, at that point, already announced as a port for the Xbox One and PS4, so the trade-off wasn't too bad.
B
Fans will soon be able to get their hands on Final Fantasy Type-0 HD for the eighth generation home consoles. The game is set to launch on March 15th, 2015 for both the Xbox One and PS4.
According to Strichart, game director Hajime Tabata will also be part of a Reddit AMA on January 23rd, 2015 starting 10:00am PST/1:00pm EST. So fans will likely want to check that out.
Staff Writer at CinemaBlend.
Your Daily Blend of Entertainment News
Thank you for signing up to CinemaBlend. You will receive a verification email shortly.
There was a problem. Please refresh the page and try again.