Final Fantasy 7 Remake Arrives On PC, Quickly Yanked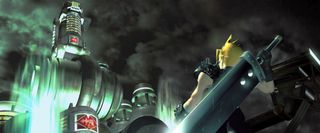 On Saturday night, Final Fantasy 7 was re-released for the PC. Don't run off to go buy it, though. Square Enix pulled the game immediately after its release due to a technical issue.
A few forum users at Square Enix's website (via Joystiq) managed to grab FF7 before it was taken off Square Enix Store. They reported that the SecuROM DRM failed. You need to enter a serial number to unlock the game, but the activation wouldn't complete. Nothing like a relaxing evening of gaming.
The frustration of these gamers wasn't in vain, though. It taught us a couple important things. First, we now know that FF7 isn't far from release. Also, in purchasing the game, these customers learned that its price is $12.70. That seems like too random of a price to be real but even if it isn't, I'd imagine the actual cost isn't far off from that. We're talking about a 15-year-old game, after all.
In FF7, players take on the role of an elite soldier named Cloud. He joins with a rebel group known as AVALANCHE in an effort to topple the corrupt Shinra Corporation. As Final Fantasy games often do, this tale quickly becomes more complicated than it first seems. Cloud and his friends end up on a worldwide quest to save the world from annihilation.
The remade FF7 introduces a Character Booster that lets you bump up your hit points, magic points, or Gil (gold) to maximum. The game also features 36 achievements and supports cloud saves. The previously announced system requirements suggest at least a slight bump in the visuals, too.
Square Enix plans to show off the remake at Gamescom 2012, which runs from August 15th to 19th. If they haven't formally released the game by that point, I suspect they'll announce a launch date.
Your Daily Blend of Entertainment News
Staff Writer at CinemaBlend.