Final Fantasy XV Leaked Gameplay Videos Show Noctis As A Child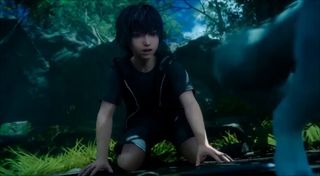 Square Enix has plans on unveiling the official release date for Final Fantasy XV tonight in Los Angeles, California. However, ahead of the big reveal some trailers and content have made their way online, one of which features the protagonist, Noctis, as a child.
Gamespot picked up the trailer from a leak that occurred on the Chinese video platform Youku. YouTuber Tim Yui re-posted the Final Fantasy XV videos from Youku, and you can check them out below.
The first video features Noctis as a child as he encounters Carbuncle, a classic summon monster throughout the Final Fantasy universe. The video ad is only 30 seconds long and manages to only cover snippets and clips of Noctis' childhood adventure. We don't really get to see what happens or what players will do during those segments, but it's likely going to be running, walking or platforming segment. The worst case scenario is that Noctis as a child is just a cinematic that renders players with no control whatsoever. The best case scenario is that it's a mechanically in-depth gameplay segment with a little bit of combat, some exploration and some platforming.
So far it appears as if players will have some kind of interaction with Noctis throughout his childhood as he grows up to address the conflicts within his present time. It would be a cool way to flesh out his backstory and keep the gameplay fresh by having some worthwhile flashback scenes in Final Fantasy XV.
The second trailer that was posted focuses on the game's concept art that was designed by artist Yoshitaka Amano. The trailer is literally just moving pictures, but the artwork is astounding. You can check it out below.
Both of these videos will likely play during the Los Angeles conference happening tonight, as Square Enix unveils new details and the release date for Final Fantasy XV.
A lot of gamers have been absolutely eager to find out more about the game and to get more info on the gameplay and story. Despite all of the gameplay videos and technical demonstrations that have been released so far, there's still a lot we don't know about Final Fantasy XV. That will likely all change tonight (or at least, we can hope).
Last year Square released the Final Fantasy XV: Episode Duscae demo for Xbox One and PS4 users, but this year they promise that the game will officially launch for home consoles. Stay tuned in for the special event that takes place at 7pm PST and 10pm EST to find out more about the game, despite all these leaks spilling out ahead of the event.
Staff Writer at CinemaBlend.
Your Daily Blend of Entertainment News
Thank you for signing up to CinemaBlend. You will receive a verification email shortly.
There was a problem. Please refresh the page and try again.