Fire Emblem Fates Is Breaking Sales Records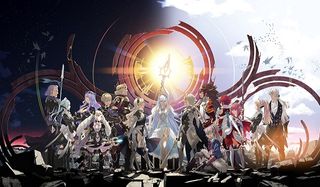 In case you were worried about whether or not Fire Emblem Fates was selling well in the United States, you can rest easy tonight knowing that the game is already breaking sales records for the SRPG series.
Fire Emblem Fates hit store shelves in two flavors last week and, according to early reports, the 3DS game sold 300,000 copies at launch.
The devs took a unique approach to this latest iteration of the series, launching it spread across two different games. While Birthright tells one side of the story, Conquest unfolds the narrative from the point of view of the other kingdom swept up in an epic conflict. Unlike the Pokemon games, which have been releasing as "two" titles since the beginning, these Fire Emblem games only share a handful of chapters. In other words, even though they're being treated as a single game, you're basically looking at two completely different adventures united under a common Fire Emblem Fates banner.
Some folks bought Birthright while others bought Conquest and still others bought both versions of the game. You might argue that such a unique setup is "unfair" when comparing the title's progress to previous entries, but we doubt Nintendo is concerned one way or the other when Fates is selling five times as many copies as the most recent entry in the series, Fire Emblem Awakening. Considering the fact that Awakening was hailed as a commercial success, we imagine all parties involved are quite pleased with the 300,000 figure just three days into the game's lifespan here in the States.
As GameSpot is reporting, Birthright is outpacing Conquest by a small margin. That's not super surprising, since most reviews pointed out that Birthright was a bit easier than Conquest and, without diving into plot specifics, appears to be the better starting point between the two games.
And if that's not enough content for you, there's actually a third campaign called Revalations that takes place after the initial games. That title has not launched yet, though, and will be available for another $20 in March. Add that to plenty of DLC plans and Nintendo has a new mega-money-maker on its hands.
It's good to see a 3DS titles doing so well, especially since the roadmap for the console is currently a bit spotty. We know that a couple of Pokemon tie-ins are planned but, outside of upcoming Bravely Second and Hyrule Warriors, there aren't currently many big blips on the radar for Nintendo's handheld device. Then again, we're right around the corner from convention season, so who knows what else the Big N has planned for the remainder of 2016.
Your Daily Blend of Entertainment News
Staff Writer for CinemaBlend.