Forza Motorsport 4 November Speed Pack Adds Chevrolet Bel Air, Lamborghini Aventador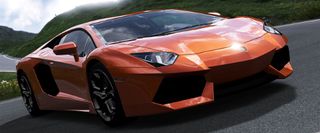 On November 1st, Turn 10 will be releasing a November Speed Pack for Forza Motorsport 4. The Speed Pack introduces eight new cars and a couple oldies.
Here are the vehicles you'll get for your 560 MS Points ($7):
2012 Lamborghini Aventador LP700-4: The newest Bull in the Lamborghini stable has arrived: fans can take it for a spin in "Forza Motorsport 4" and experience what it's like to whip past rivals at 200 miles per hour.
2012 Aston Martin Virage: Aston Martin's newest coupe features a barking V12 that balances a perfect ratio of horsepower to torque to propel the Virage down the open road.
2011 #2 Audi Sport Team Joest R15++ TDI: The final version of the Audi R15, the R15 "Plus Plus," celebrated the R15s final race at the 2011 Sebring 12 Hours.
2011 Audi RS3 Sportback: The newest member of the Audi RennSport line boasts the same 2.5-liter turbocharged direct-injection five-cylinder found in the TT-RS, propelling it from 0 to 60 in only 4.6 seconds.
1957 Chevrolet Bel Air: A true automotive icon, the "57 Chevy" gained notoriety as a hot rod and is now one of the most recognizable American cars of all time.
2012 Dodge Charger SRT8: The 2012 Dodge Charger SRT8 is a serious performance machine with a 470-hp 6.4-liter Hemi V-8 that responds to throttle inputs with no hesitation.
2011 Ferrari #62 Risi Competizione F458 Italia: Matched only by the legendary heritage of Ferrari, the Risi Competizione team has won two Le Mans championships and achieved 29 podium finishes.
2013 Ford Focus ST: Debuting with the same 250-hp 2.0-liter turbocharged EcoBoost engine that the much larger Ford Explorer SUV uses, the new Ford Focus ST packs a serious punch.
1992 GMC Typhoon: The 280 horses on tap in the GMC Typhoon allow it to do things unthinkable for an SUV before its introduction.
2011 Volkswagen Scirocco R: The Scirocco R serves as the platform for race cars in the Scirocco R-Cup, which brings world famous drivers to the Hockenheim track each year.
You can get access to the Speed Pack and five other Forza 4 DLC packs by purchasing a Season Pass. The Season Pass, which costs 2400 MS Points ($29.99), is 30% cheaper than buying all of the DLC individually. Purchasing the pass will let you download the Speed Pack and American Muscle Car Pack immediately. You'll be able to download the other four batches of DLC as they're released through 2012.
Staff Writer at CinemaBlend.
Your Daily Blend of Entertainment News
Thank you for signing up to CinemaBlend. You will receive a verification email shortly.
There was a problem. Please refresh the page and try again.