Free Realms Fact Sheet And Screenshots Released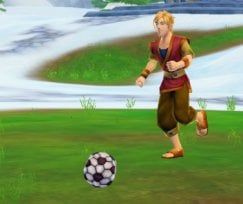 Sony Online Entertainment recently mentioned Free Realms as a project that a winner of a scholarship contest would get a chance to work on. The scholarship and contest was in hopes to get more female game designers involved with the industry. Well, today, SOE has released some new screenshots and a fact sheet for the upcoming MMO game.
Due out in the second quarter this year for the PC and PlayStation 3, Free Realms features a do-anything-you-want and go-anywhere-you-please kind of feel to it, with no pressures to beat up giant bosses or level up your fighting skills. You can count this game as a casual MMO for PC and PS3 owners, and it operates on the convenience of being played in a browser.
The game encourages social-based gaming that does support missions and class-based objectives, if you want it to. There's also mini-games and other activities present within this 3D, casual online game.
You can check out the new screenshots and fact sheet below or visit the Official SOE Website for more details. Be sure to stay tuned in with Blend Games for further updates and news regarding all things gaming.
Free Realms Features:
Play Free or Upgrade: At its heart, Free Realms™ is free to play, but players who want to break through to the next level can purchase a monthly membership for only $4.99 USD. Members and free players can purchase variety of items through micro-transactions.
Rich Character Creation: With over 30,000 wearable combinations, you can blend fantasy and reality to create your perfect avatar.
Be Whoever You Want: Be a ninja one minute and a kart driver the next! With fifteen jobs available at launch, you can find your perfect job, or try them all! Member Jobs available at launch include: wizard, blacksmith, medic, archer and warrior. Free Jobs include: ninja, brawler, chef, miner, demolition derby driver, kart driver, card duelist, adventurer, postman, and pet trainer.
Kid-Safe: Parental controls allow for the customization of safety options, including pre-canned chat, reporting and filters for younger players.
Fun for Everyone: With so much to do and see it's easy to find something for you! Start by playing one of 14 different styles of minigames like cooking, kart racing, mining, demolition derby and music conducting. The action doesn't stop there, as there are over 460 quests for everyone with an additional 240 available to Members. Even though combat is optional, there are 80 free battles and 15 additional Members Only battles—plenty of action for those eager to fight fierce creatures!
Vibrant, Deep Environment: Eight distinct, unique and breathtaking environments for gamers to explore for launch. Areas include the snowcapped mountain villages of Snowhill, the dark and mysterious Blackspore, and real fun in the sun at Seaside.
Connect with Friends: Whether you're meeting up with old friends or finding new ones, Free Realms™ lets players stay connected through its social networking page. Just log in, see what your friends have been up to, click their avatars and join them in the game!
Trading Card Game: The Free Realms™ Trading Card Game will let players pit a variety of fun characters and creatures against one another in fun, fast-paced combat. Half the game is collecting new cards, to arm yourself with the best line up of attacks and defenses. You can even prove your might in online tournaments!
Image 1 of 5
Your Daily Blend of Entertainment News
Staff Writer at CinemaBlend.