GTA 5's City Rebuilt In Cities: Skylines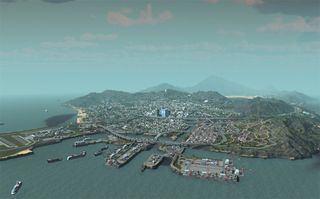 Cities: Skylines has only been on the market for four days, but one enthusiastic city planner has already recreated the city of Los Santos from Grand Theft Auto V.
When Grand Theft Auto V was announced, Rockstar constantly bragged about the game's massive size (insert phallic joke here). The playable area in GTA's open-world is roughly twice the size of Manhattan. So, the fact that Steam user grockefeller uploaded a detailed recreation of Los Santos within 24 hours of Cities: Skylines' release is impressive.
The mod includes everything you'd expect from a Los Santos look-alike, and allows GTA fanboys to experiment with civil engineering, instead of drugs and hookers.
Here's how grockefeller describes his creation:
If you want to check out grockefeller's Los Santos, you can download the mod on Steam Workshop. And even though the download is free, there are a couple of hoops that you'll need to jump through:
Here are grockefeller's instructions:
Apparently Los Santos is experiencing a budgetary crisis.
In a lot of ways, Cities: Skylines is everything that the latest SimCity title isn't. The game was mod-friendly on day one, and the map sizes are huge. Plus there's no pesky online requirement. It really does feel like a sequel to the Maxis-made SimCity titles from the early 2000s.
Last September, Wired sat down with Mariina Hallikainen, the CEO of Cities: Skylines' developer Colossal Order. Hallikainen explained that her vision for the game was more in line with the original SimCity titles than EA's current incarnation.
Here's how Hallikainen explained the studio's approach:
In a month where very few big-name titles are hitting the market, Cities: Skylines is tearing up the charts. Within 24 hours, 250,000 copies were sold, which is a big deal for an indie studio like Paradox Interactive.
If you want to give Cities: Skylines a try, check it out on Steam.
Your Daily Blend of Entertainment News
Thank you for signing up to CinemaBlend. You will receive a verification email shortly.
There was a problem. Please refresh the page and try again.