GTA 5 Has Gone Gold, Rockstar Warns Gamers Of Spoilers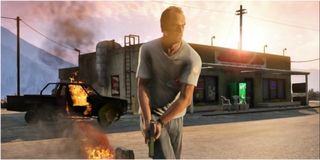 Rockstar Games has announced today, just about two hours ago, that the most anticipated game of the entire seventh generation of gaming, Grand Theft Auto V, has gone gold. This means that the gold master print of the disc has been sent off to manufacturing now that development has ceased and the game will begin its production run leading up to its September 17th release.
The news comes courtesy of Rockstar's official website [via NerdVice] where the company explicitly confirmed that development was finished and the game was primed and ready to be released, stating...
The leak referenced in the statement occurred shortly after Grand Theft Auto V was made available for digital pre-load on the PlayStation 3's store on August 23rd, as reported by The Sixth Axis. The download was a massive 18 gigabyte (viz., and that is four gigabyte more than GTA IV, which clocked in at 14GB) but some individuals managed to not only download the game early but began posting media assets of the game online and letting loose spoilers for the community at large.
Rockstar, however, is not too pleased with the turnout of spoilers and mentioned in their brief posting about the game going gold that...
They're certainly a lot nicer about spoiler leaks than those chaps over at Reddit and a few other sites, where imminent and permanent bans are being threatened for anyone who purposefully spoils the game in any way, either with a post or via a comment. I hate to say it but some people have more Nazi in their blood than Hitler.
And since I'm out of anything interesting to say from here on out, it's time to fill out the rest of the word count with the proverbial advertorialism. If you don't care about any of this stuff you're free to go.
GTA V is Rockstar's latest and final open-world game for the current generation of gaming. The team has decided to go all out with a massive world that's bigger than GTA IV, Read Dead Redemption and GTA: San Andreas combined. The game sports tons of mini-games, a new overhauled multiplayer mode with custom content and three playable protagonists. The game is set for release on September 17th for the Xbox 360 and PlayStation 3. A PC version might be inbound at a later... no one knows, it's just a rumor right now.
Your Daily Blend of Entertainment News
Staff Writer at CinemaBlend.