GTA 5 Online Flight School Update Launching Tomorrow With Patch 1.16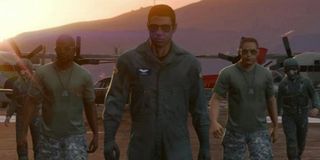 Update: The Flight School Update is now live. Get the full list of changes here.
Original article: GTA Online will receive a San Andreas Flight School Update tomorrow. The new content will be available along with Patch 1.16 on both Xbox 360 and PS3.
"Starting tomorrow, enjoy the thrill and exhilaration of being a patriotic hero with the San Andreas Flight School Update for GTA Online," reads a new post on ,a href=http://www.rockstargames.com/newswire/article/52293/the-san-andreas-flight-school-update-coming-tomorrow-august>Rockstar Newswire. "This new update will feature a collection of new air and land vehicles, aerial solo challenges, and much more."
The Flight School Update trailer shows off a range of new clothing options, including flightsuits, bomber jackets and military uniforms. If you want to reenact Top Gun, now's your chance. Yes, even the bromantic beach volleyball scene. Feel free to serenade other players with "Lost That Loving Feeling," too.
The trailer also gives us a peek at a few of the new vehicles. There's footage of helicopters and fighter jets zipping through the skies. The new land vehicles range from sleek sports cars to motorcycles. If you're sitting on a pile of money, you'll have plenty of pricey rides to spend it on.
Rockstar says that Patch 1.16 will bring a "host of gameplay changes." You'll receive more money for completing hard missions, presumably to stop people from just grinding the easiest jobs over and over. You'll also get bonus cash for completing missions with other players. The full patch notes will be released through Rockstar's support site on Tuesday.
I'm sure that some GTA Online players are disappointed that this update doesn't include cooperative heists. They've been waiting for that feature since the game launched. Rockstar typically releases one free DLC for GTAO per month so it looks like players won't get heists until September at the earliest. Hopefully the Flight School Update will serve as an effective diversion.
Additional details on the Flight School Update will be announced tomorrow when the DLC goes live on Xbox Live and PSN. In the meantime, check out these screenshots of the new content.
Image 1 of 6
Image 2 of 6
Image 3 of 6
Image 4 of 6
Image 5 of 6
Image 6 of 6
Staff Writer at CinemaBlend.
Your Daily Blend of Entertainment News
Thank you for signing up to CinemaBlend. You will receive a verification email shortly.
There was a problem. Please refresh the page and try again.