GTA 5's Online Mode Gets 10 New Verified Jobs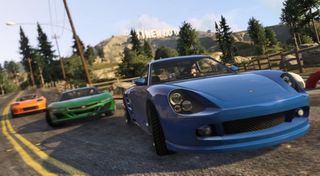 Rockstar has sent out word that 10 new verified jobs have been added to Grand Theft Auto V's online mode for the Xbox 360 and the PlayStation 3. The jobs have been added courtesy of an event that Rockstar held a month ago.
The event for GTA Online originally took place on the weekend between June 20th and June 22nd. Players received double the experience points, as well as hipster and gang attack bonuses being upgraded with bonus points, too. The event also saw added crate drops for hipsters, $10,000 bet challenges, event sweepstakes and a very special event that saw Rockstar looking to reward players for designing custom jobs with the #ImNotAHipster challenge.
As noted on the Rockstar Games page...
Well, Rockstar selected five entries for their personal favorites while also selecting five more entries that round out the 10 new verified jobs from the #ImNotAHipster contest.
The 10 jobs include: Dubtsa Warz, where its a hard climb through non-traditional roads as players race from the beach to the mountains. The 80's Turf War gives players players a more vintage deathmatch feel on Grove Street with various weapons and car placements to make it feel retro. Panto-monium Microcircuit is a tight-lapped race where turns are treacherous and bumper action is a must. Swedish Folkrace is a throwback race that takes place across tarmac and dirt roads, giving players difficult races to deal with across slippery surfaces.
The other verified jobs include Hipster Death Rally, which is a dangerous race around the dirt roads near the airstrip. The Coil is an oval-style race around Los Santos International Airport. The Los Santos Triangle is a fast-paced race in super-cars. Loop the Lake is a trip around Vinewood with a few surprises. The last two jobs are Pit Stop and Retaliate, two different deathmatch modes that see players battling it out around a rest stop, as well as a team deathmatch showdown where verticality comes into play.
The 10 jobs above are now currently available for Xbox 360 and PlayStation 3 owners.
GTA Online is the multiplayer component of GTA V, offering players an online competitive and cooperative chance to experience the mayhem offered in Los Santos. Players can create their own character, perform online jobs to earn money, purchase vehicles and houses, as well as battle it out against rival gangs.
GTA V is currently available for the Xbox 360 and the PlayStation 3. The game is scheduled to launch this fall for the Xbox One, PS4 and PC. There are rumors that the game may launch in mid November.
You can learn more by visiting the official website.
Staff Writer at CinemaBlend.
Your Daily Blend of Entertainment News
Thank you for signing up to CinemaBlend. You will receive a verification email shortly.
There was a problem. Please refresh the page and try again.