GTA 5 PC Screenshots Show Off Updated Graphics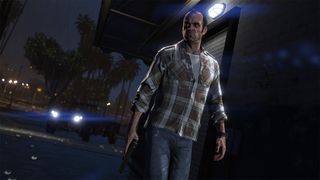 Grand Theft Auto 5 has been on the market for nearly 18 months, which is an eternity in video game years. Yet, Rockstar Games hasn't ditched the title for greener pastures. And if this new batch of screenshots is any indication, Los Santos is about to get a major upgrade.
PC Gamers have been begging for a GTA 5 release since the title hit the market in 2013. But Rockstar Games has been taking its time—perfection shouldn't be rushed, after all. But this morning, 15 shiny, new screenshots showed up on Rockstar Newsire. And suddenly console gamers are the jealous ones.
I rarely use the word "exquisite," mostly because I don't appraise jewelry for a living, but these images are pushing the boundaries of my tiny vocabulary. Even in their compressed jpeg format, the details are impressive. Michael looks angrier; Trevor looks crazier; Franklin looks even more self-reflective; and Los Santos looks, well...more like Los Angeles.
But fancy screenshots aren't the only thing that Rockstar teased. The developer is being coy about the details, but Grand Theft Auto fans can look forward to several new tidbits of info over the next few weeks. Here's what Rockstar had to say:
Back in January, rumors about a GTA 5 delay started creeping onto the Internet, but Rockstar quickly squashed them. However, just a few days later, the developer officially announced a delay on the PC edition. And last week, the game was delayed again, pushing the release date back to April 14th.
Unlike Nvidia, though, Rockstar posted a blog apologizing for the delay:
But judging from these screenshots, Rockstar isn't merely porting the game over to the PC platform. The developer is attempting to create an experience worthy of the PC Master Race. And PC gamers have already waited this long. What's a few more weeks?
Check out the screenshots in the gallery below, and draw a big, pink heart around April 14th on your calendar.
Image 1 of 15
Your Daily Blend of Entertainment News