GTA 5's PC System Requirements For 4K Revealed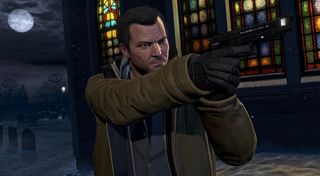 If you thought that simply buying the latest computer and calling it a day would make you eligible to experience GTA V at 4K resolution, you could be sadly mistaken. The reality is that you need specific hardware to get the most out of GTA V at the highest available resolution.
According to an article on PC Gamer, it was revealed that you'll need to different kinds of hardware requirements to hit certain frame-rate plateaus for GTA V running at 4K.
Kevin Hoare, president of Rockstar Toronto commented about the company's approach to addressing the 4K standard for PC gamers, saying...
This means that the game is scaled for the preference of the player, depending on your hardware setup. The low-end of the spectrum, 1080p at 60fps, you'll only need a Nvidia GTX 660 2GB or AMD HD7870 2GB. That's actually pretty tame. Max Payne 3 was even more low-end than that to hit 1080p at 60fps even when rocking the max settings. The game was extremely well optimized. However, it's a little unfair to compare a linear, corridor-shooter with an open-world game because they're both optimized very differently.
Running GTA V at 4K and 30fps will require a large step up from the GTX 660. According to Hoarse, gamers will need a GTX 760 with 2GB of RAM to run GTA V at 4K. However, if you want to play GTA V at 4K and 60fps, Rockstar suggests an SLI or Crossfire setup. So if you don't have dual cards or the absolute latest in the enthusiast GPU line of hardware, you're likely going to be fresh out of luck for playing Rockstar's latest game at its highest settings.
It seems kind of funny that in the realm of home console gaming owners of the Xbox One or PS4 are just happy when a game can reach 900p instead of 720p or 1080p instead of 900p. Over in the realm of PC gaming it's between 2K at 60fps and 4K at 30fps.
And just for comparison purposes, a PC rig running a game at 4K compared to a PS4 or Xbox One game running at 1080p is rendering 6,220,800 more pixels per frame. That's assuming you're into unparalleled sharpness and quality in picture resolution.
Grand Theft Auto V will likely be a benchmarker'ss dream game come true. I imagine there will be a lot of tests and enthusiasts charts using the game as a new golden standard for hardware performance.
If you already pre-ordered the game you can start pre-loading Grand Theft Auto V right now on PC via Steam or other participating digital distributors. The game will finally launch on PC on April 14th.
Your Daily Blend of Entertainment News
Staff Writer at CinemaBlend.
Your Daily Blend of Entertainment News
Thank you for signing up to CinemaBlend. You will receive a verification email shortly.
There was a problem. Please refresh the page and try again.