GTA 5 PC Screenshots Demonstrate 4K Resolution, New Trailer Coming Soon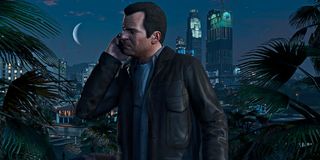 Rockstar Games sent out a fresh batch of 4K resolution screenshots for GTA 5's PC version today. They also promised that a new trailer is on the way.
These screenshots demonstrate the kind of graphics you'll experience with a high-end machine. However, you can run the game on a significantly less powerful rig. Here are the minimum and recommended requirements announced earlier in the year:
Minimum requirements:
OS: Windows 8.1 64 Bit, Windows 8 64 Bit, Windows 7 64 Bit Service Pack 1, Windows Vista 64 Bit Service Pack 2* (*NVIDIA video card recommended if running Vista OS)
Processor: Intel Core 2 Quad CPU Q6600 @ 2.40GHz (4 CPUs) / AMD Phenom 9850 Quad-Core Processor (4 CPUs) @ 2.5GHz
Memory: 4GB
Video Card: NVIDIA 9800 GT 1GB / AMD HD 4870 1GB (DX 10, 10.1, 11)
Sound Card: 100% DirectX 10 compatible
HDD Space: 65GB
DVD Drive
Recommended requirements:
OS: Windows 8.1 64 Bit, Windows 8 64 Bit, Windows 7 64 Bit Service Pack 1
Processor: Intel Core i5 3470 @ 3.2GHZ (4 CPUs) / AMD X8 FX-8350 @ 4GHZ (8 CPUs)
Memory: 8GB
Video Card: NVIDIA GTX 660 2GB / AMD HD7870 2GB
Sound Card: 100% DirectX 10 compatible
HDD Space: 65GB
DVD Drive
GTA 5 on PC will run at 1080p and 60fps with a resolution of up to 4K. It also supports triple monitor setups and NVIDIA 3D Vision. The PC version will also ship with a set of advanced movie-making tools that should help you in all your video endeavors, whether you're recording crazy stunts or recreating iconic movie scenes.
PC gamers have been waiting awhile for GTA 5's release. The PC version of the game was supposed to launch along with the Xbox One and PS4 editions last fall but was then pushed to January. Rockstar then delayed it to March, and finally to April.
"Our apologies to PC gamers worldwide who have been counting down the days until the launch of the game, but a bit more time is needed to ensure that the game is as polished as possible, and to make certain that both Heists and the GTA Online experience are ready to roll out on day one for PC," Rockstar said when they announced the most recent delay.
GTA 5 will now hit the PC on April 14th. Digital retailers like Steam, Rockstar Warehouse and Gamersgate are offering $1,200,000 of in-game money ($500,000 for story mode and $700,000 for GTA Online) to anyone who pre-purchases the game. If you pre-purchase by March 31st, each retailer will also throw in an additional $300,000 for GTA Online.
Before launch, Rockstar plans to share a new trailer for the PC version. They're expecting to release it next week so be on the lookout for that.
The full set of PC screenshots released today can be found below. For more images of the PC version, check out last month's batch.
Image 1 of 14
Image 2 of 14
Image 3 of 14
Image 4 of 14
Image 5 of 14
Image 6 of 14
Image 7 of 14
Image 8 of 14
Image 9 of 14
Image 10 of 14
Image 11 of 14
Image 12 of 14
Image 13 of 14
Image 14 of 14
Staff Writer at CinemaBlend.
Your Daily Blend of Entertainment News
Thank you for signing up to CinemaBlend. You will receive a verification email shortly.
There was a problem. Please refresh the page and try again.